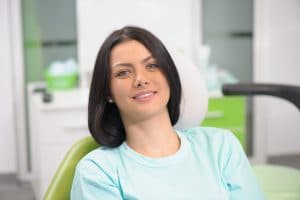 You should not put off treatment to safely extract your wisdom teeth after they become a problem. People often lack the space for them, which leads to problems with their arrival. A lack of space can cause them to shift or press painfully against neighboring teeth. If this happens, you can experience crowding, you can suffer damage to other teeth, and you can feel a worrying degree of pain and sensitivity. Sunny Smiles is ready to help you if you are growing worried about your wisdom teeth. If necessary, we can perform minor oral surgery to safely remove impacted wisdom teeth without negatively affecting neighboring teeth in the process.
Why Wisdom Teeth Are Often Extracted
Wisdom teeth are the last to erupt, and when they arrive they often cause unpleasant issues because there is not enough space for them. That lack of room can cause wisdom teeth to become impacted, which means they do not move properly into position but instead push out at uncomfortable angles. If your wisdom teeth press against your molars, they can cause discomfort, and they can eventually cause crowding or even damage to enamel. By scheduling regular dental exams, you can make sure that the eruption of your wisdom teeth is caught in time to address them before complications arise.
Safely Extracting Wisdom Teeth
There are a few differences between typical teeth extractions and the removal of wisdom teeth. Wisdom teeth are not replaced, so there is no need for prosthetic dental work after their extraction. However, their removal may call for minor oral surgery. This work is performed so that we can safely take them out without interfering with your molars. Oral surgery can help us deal with wisdom teeth that have already become impacted and are starting to erupt unevenly.
Stay Informed About Oral Health Developments At Your Routine Reviews
Consistent dental exams share information about the movement of your wisdom teeth. This is one of many benefits to regularly scheduling care. At routine checkups, we closely review your teeth and gums for any signs of problems. If decay or gum disease are observed, we can move forward with treatments that address the threat they pose to your smile. For cavity treatments, we can use dental fillings and dental crowns that match your enamel in order to preserve your appearance while taking care of you.
Sunny Smiles Is Ready To Extract Your Wisdom Teeth
Sunny Smiles is ready to help you deal with the arrival of your wisdom teeth. If these teeth become impacted, you can experience problems with pain, teeth crowding, and more! To learn more about how we can help you, reach out to our dental office on Dyer St in El Paso, TX by calling 915-859-7000.