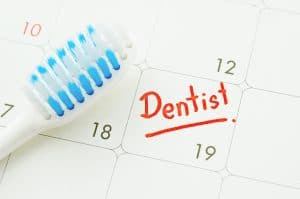 Your typical week may lack flexibility, which can make certain tasks harder to address. Unless they are told to follow something different, patients should schedule routine dental exams on a semiannual basis. What can you do if you struggle to find time during the week for an appointment? Falling out of your routine will make you vulnerable to tartar buildup, and leave you without important checks for problems like dental decay and gingivitis. Sunny Smiles makes visits easier to arrange by offering office hours on Saturdays! This greater flexibility in scheduling makes it easier for you to stay consistent with checkups, which makes it easier to avoid dental trouble over time.
The Importance Of Consistent Dental Care
Consistency is important for your oral health. At every routine exam, your dentist looks for any signs of trouble like tooth decay, gum disease, teeth grinding and jaw alignment issues, and other issues that can affect your quality of life. When you receive early treatment for problems, you avoid complications that cause discomfort, interfere with your bite function, and make you vulnerable to infections. The teeth cleanings performed at every routine visit help you avoid future oral health issues. This is because your hygienist is able to remove tartar deposits, concentrations of plaque that become difficult to remove after hardening.
How Long Have You Gone Since Your Last Appointment?
Unless you and your dentist have discussed putting you on a different timeline, you should schedule checkups on a semiannual basis. Has it been more than six months since your last routine visit? Longer gaps between appointments mean more tartar buildup. A delay in preventive care also gives problems with cavities and gum disease time to form and worsen. A cavity will keep growing until it is treated. By the time you schedule your next appointment, it may already be too large for a dental filling, which means your dentist will need to place a dental crown.
What To Expect If Your Dentist Finds A Cavity During Your Visit
Cavity treatment should take place as soon as possible, as decay will keep growing until restorative dental treatment occurs. Our goal is to provide the most conservative treatment option possible when oral health issues arise. We can make sure your treatment does not change your smile, and that your restorative work preserves your bite function.
Sunny Smiles Can Welcome Patients For Care On Saturdays!
Sunny Smiles keeps office hours on Saturdays, so patients with difficult weekday schedules have more time to arrange services. We are proud to provide a variety of preventive, restorative, and cosmetic services to families in and around the El Paso, TX area, and are excited to take care of your smile! For more information, call our Sunny Smiles office on N. Zaragoza Road at 915-849-9000.