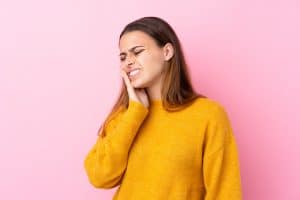 The trouble you have with jaw movement and alignment can lead to pain and stiffness, the onset of awkward clicking or popping noises when your jaw moves, and even difficulties with headaches and other discomforts. What you should know is that these problems also make you vulnerable to persistent teeth grinding. Nighttime grinding wears down enamel, causing discomfort as well as problems with dental damage and gradual wear and tear. Without timely treatment, this issue will worsen until you require restorative dental work! Sunny Smiles is ready to help you if you struggle with this issue. By providing TMJ therapy, we can ease chronic pain, resolve troubles with grinding, and generally improve your quality of life.
How Poor Jaw Alignment Affects A Person's Daily Life
Problems with jaw stiffness, improper joint alignment, or injury can affect you throughout the day. Biting and chewing can be difficult because of stiff or uncomfortable movements, and you may find yourself struggling to speak or laugh without some discomfort. You can also begin grinding your teeth while you sleep, a problem that will lead to negative changes to your smile as well as potential oral health issues. Over time, you can struggle with headaches, as well as persistent pains in your face and jaw, which can affect your mood and quality of life.
Using Oral Appliance Therapy To Deal With Bruxism And TMJ Disorder
A custom oral appliance can gently correct problems with your jaw alignment in order to ease tension, improve your bite, and reduce problems with pain and stiffness. This appliance is carefully made to fit you comfortably. Keep it in place throughout the night to gradually address your discomfort and misalignment. In addition to easing aches and pains, a custom oral appliance can help you avoid problems with grinding and clenching.
Other Services That Can Help Those Affected By Teeth Grinding And TMJ Disorder
Problems with your dental function may stem from existing dental problems that have impacted you. For example, you may not be able to bite and chew in a way that feels natural because of a problem tooth, or problem teeth. These teeth can be restored with custom dental crowns that absorb bite pressure and let you return to more natural jaw movements. If the teeth in need of treatment are important for your smile, we can recommend placing crowns that are made with material capable of matching your healthy tooth structure.
Talk To Sunny Smiles About Starting TMJ Therapy
Our dental practice is ready to help those who are experiencing problems with TMJ disorder and teeth grinding! If these issues affect you, or if you have any other oral health concerns, contact Sunny Smiles in El Paso, TX by calling 915-859-7000.