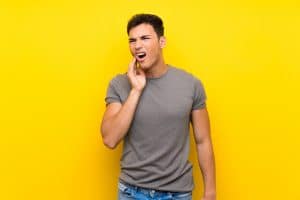 People who frequently feel pain and stiffness in their jaw when they speak or eat, those who hear popping or clicking sounds in their jaw joints, and those who struggle with facial pain and headaches should be concerned about TMJ disorder. There are many reasons people start to suffer from this condition. If your jaw joints are no longer in alignment, or if there is extra tension on your joints or jaw muscles, you can start to struggle with these issues as well as trouble with teeth grinding. While you can discuss these symptoms at your next dental checkup, you can also make time to speak with your dentist when you grow concerned. The sooner you do something about this issue, the sooner you can put chronic aches and pains behind you!
Common Signs Of TMJ Disorder
TMJ disorder becomes a problem when your joints stop moving in proper alignment, or when you have an unresolved problem with the joints or muscles. Some people develop issues because of arthritis in their jaw joints, while others can struggle with poor alignment after an injury. While habitual teeth grinding is sometimes caused by TMJ disorder, it can also be the reason someone starts to experience this condition. Although different issues can lead to TMJ disorder, your dentist is often able to address the problem with a custom oral appliance. Through oral appliance therapy, we can help by better aligning your jaw joints and by easing tension on your joints and muscles.
Using An Oral Appliance To Address Stress And Joint Imbalances
Your dentist can supply you with a custom oral appliance that you wear while you sleep. When you put your appliance in, it will hold your jaw in a position that reduces joint and muscle tension and also help keep those joints in alignment. An oral guard can also help if you grind your teeth. Dealing with nightly teeth grinding helps because it protects you from wear and tear that can make cosmetic dentistry necessary, or even harm that calls for restorative dental work!
TMJ Disorder Is Something We Can Identify During A Dental Exam
If you have frequent issues with facial discomfort, stiffness, or problems with headaches, your dentist can recognize them as signs of TMJ disorder and discuss treatment with you. Regular dental exams do more than just help you avoid cavities and gum disease. When you receive regular feedback about your oral health, you can learn when issues like TMJ disorder are impacting your quality of life, and discover what can be done about the matter!
Talk To Sunny Smiles About Possible Issues With TMJ Disorder
Sunny Smiles is ready to help patients who are struggling with TMJ disorder. If you think problems with jaw tension or misalignment are affecting you, let us know so that we can begin treatment and put a stop to your aches and pains! To find out more, please contact our Sunny Smiles office on Dyer St in El Paso, TX by calling 915-859-7000.