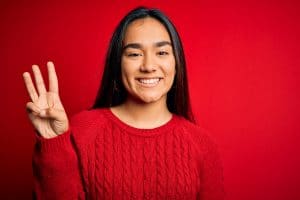 By ignoring active tooth pain, you could be ignoring trouble with your oral health that will worsen in time. That discomfort you ignore could be a sign that your tooth is infected. If you try to adopt a modified bite that lessens pressure on a sensitive tooth, you can put more stress on your jaw and begin to experience issues with TMJ disorder. You should feel comfortable bringing up discomfort during routine dental exams, but if the matter is serious, schedule an appointment before your next review. For severe pain, you can even arrange an emergency dental visit. Sunny Smiles is prepared to address problems that call for restorative dental work. We can even use lifelike restorations to provide treatment that will not change your smile!
1. The Pain Could Be A Sign Your Tooth Is Infected
Infections create many problems for your tooth, and they pose a larger threat to your oral health. An infection can form because your tooth is affected by an advanced cavity. You can also experience problems after injuring your tooth, as the damage can affect your pulp or leave it exposed to infiltration by bacteria. Eventually, the infection will spread so much that the tooth cannot be saved. When bacteria travel through the roots of a tooth, they are able to cause problems in other areas! Fortunately, you can schedule a root canal procedure with your dentist and stop an infection from worsening.
2. Constant Discomfort Can Make Biting And Chewing Difficult
If you lack the ability to bite and chew without pain, you can start to avoid more foods. That limitation can make it harder for you to maintain a smart and nutrient rich diet. Choosing to avoid pain by changing your bite function can lead to problems, too. Uneven, awkward, or otherwise flawed bite movements will increase stress on your jaw joints and muscles. That accumulation of tension can lead to TMJ disorder, which causes chronic jaw and facial pain, headaches, and more!
3. You Could Be At Risk For Tooth Loss!
Remember that if your tooth is infected, the problem can grow so serious that even root canal therapy cannot save it from being lost. Losing a single tooth changes your bite function, and it can seriously compromise your smile. That first loss can even lead to more trouble with teeth becoming loose or lost! The sooner you act, the less likely you are to need a prosthetic dental restoration to close a smile gap.
Talk To Sunny Smiles If You Are Experiencing Tooth Pain
Sunny Smiles is ready to help people in and around El Paso, TX who struggle with tooth pain. By seeking treatment promptly, you can avoid complications that could affect your smile and oral health! To learn more, you can reach out dentist's office on Dyer St by calling 915-859-7000.