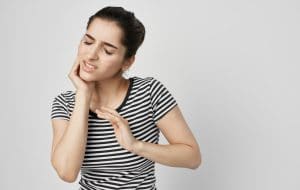 When your jaw joints are out of alignment, you can experience problems with uneven or difficult bite movement, chronic joint discomfort, and even issues with headaches and other forms of pain. This issue can also affect you by causing problems with bruxism, or chronic teeth grinding, something that can lead to worrying dental damage. Fortunately, patients who exhibit symptoms of TMJ disorder can have treatment arranged to ease tension and correct alignment issues. Sunny Smiles can meet with you to examine your joint issues and pursue TMJ therapy. By correcting your issues, we can ease persistent tension, reduce problems with pain, and correct an awkward or uneven bite.
What Can Affect The Alignment Of Your Jaw Joints?
There are several issues that can cause jaw problems that require TMJ therapy. Joints that are inflamed, out of alignment, injured, or placed under too much stress can put you in a state of persistent discomfort that affects you throughout each day. The problem can also stem from teeth grinding, though it is also possible that your unresolved joint problems has caused you to start grinding your teeth.
Starting TMJ Therapy To Address Pain And Poor Jaw Movement
Through TMJ therapy, we can focus on returning your jaw joints to proper alignment in order to ease the chronic tension that you experience. For many, oral appliance therapy can be beneficial. A custom appliance, worn at night, can correct the way that your jaw is held. Over time, that correction can encourage you to better align your jaw and bring your joint issues under control. We can also discuss restorative dentistry to address trouble with the way you bite. By capping damaged or weak teeth with dental crowns, we can make it easier for you to apply and release pressure evenly, and stop favoring a certain section of your bite to avoid discomfort.
We Also Help People Struggling With Bruxism
Bruxism is a problem that should be taken seriously, because it can result in serious dental damage when it is not managed. If nothing is done, your teeth can become visibly worn to the point where cosmetic dentistry is needed to make you comfortable with your smile. The damage to your enamel can even hurt your oral health. Because teeth grinding issues affect people at night, a custom guard can help you by stopping you from unconsciously grinding or clenching.
Talk To Sunny Smiles If You Think You Could Benefit From TMJ Therapy
Sunny Smiles is prepared to help patients who need help with TMJ disorder. If you think this is a problem that affects you, or if you think you have issues with bruxism that need to be resolved, act quickly to put a stop to the uncomfortable symptoms associated with these issues! To learn more, please contact our El Paso, TX, dentist's office on N. Zaragoza Road at 915-849-9000.