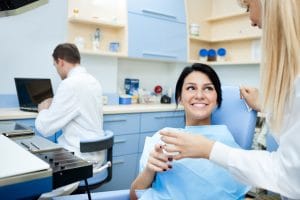 When the new year begins, what will you need to do to make sure it starts on the right note? If you are past due for a routine dental checkup, it can be a good time to set up your next visit! At every routine dental exam, you will receive a thorough teeth cleaning as well as a review with your dentist to determine if there are any problems that need to be resolved. Falling out of the habit of regular checkups can leave you vulnerable to potentially serious oral health problems and make it hard to maintain clean teeth. Having a review after the holiday season can be particularly beneficial to you, as seasonal snacking often exposes people to more sugary foods than normal.
Will You End The Holidays With Oral Health Issues?
Even if your plans for the holidays are limited, they can still involve an excess of tasty foods and drinks. This can lead to trouble with your smile at the end of the year, as an increase in sugar consumption can make you vulnerable to tooth decay. If a cavity does form, treatment with a dental filling can put a stop to your trouble before decay grows to the point of causing an infection that demands root canal therapy.
Arranging Your Checkup And Teeth Cleaning
Unless your dentist has told you to follow something different, you should go in for both a teeth cleaning and review on a semiannual basis. Consistent appointments provide you with updates about the condition of your teeth as well as the health of your gums. The cleanings that are performed by your hygienist take care of plaque as well as tartar buildup that can hurt your oral health. These combined services will help you avoid trouble in time, and they will lead to early intervention when problems do form.
Creating A Plan To Consistently Protect Your Smile
While regular dental checkups are important, they should be combined with consistent daily care if you want to avoid trouble with your oral health. On a daily basis, you should brush at least two times a day and floss at least once to stop problems from forming and worsening in time. Sticking to these habits, and being cautious about your sugar intake (particularly around the holidays) can be important for avoiding problems over time.
Schedule Your Next Dental Checkup At Sunny Smiles!
At your next dental exam, you can have a thorough teeth cleaning and an review to ensure your smile is safe from oral health trouble! If you need to schedule your exam, or if you need to do something about an active problem, then contact Sunny Smiles in El Paso, TX by calling 915-859-7000.