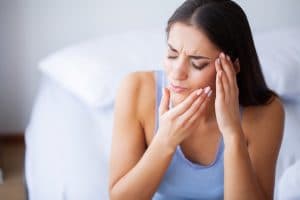 An aching tooth can spoil your day. If that discomfort is connected to a dental injury or advanced cavity, it can also be a warning sign that you need to arrange restorative dental work as soon as possible. Pain and sensitivity often affect people with oral health issues, and the cause of these discomforts can continue until you have root canal therapy. By performing your root canal, your dentist will remove bacteria and damaged tissues within the chamber of your tooth (the pulp). When necessary, we can actually have patients see us on short notice when they are alarmed by the onset of a serious or persistent toothache.
How Worried Should You Be About An Aching Tooth?
If your tooth has been in pain for an extended length of time, or if you are distracted by a higher degree of discomfort, you should be worried about the overall health of your tooth. Pain and sensitivity are linked to problems with tooth infections, which can form after you develop a cavity or injure a tooth. You should act quickly if you think your tooth might be infected, because the problem will grow worse without the appropriate care, which can actually lead to the need for tooth extraction!
Arranging Your Root Canal Procedure
Whether your dentist recommends root canal therapy after a regular dental exam, or you are told you require a root canal during an emergency dental visit, the treatment should be a priority. By undergoing this service, you will be free of a problem responsible for causing you pain and problems with sensitivity. We will work carefully to clear away the infected tissues and bacteria before sealing your tooth's pulp to protect it.
How Will Your Tooth Be Restored After The Root Canal Is Performed?
To protect your tooth after root canal therapy, your dentist will cap it with a custom dental crown. Dental crowns cover teeth above the gum line to both protect the remaining structure and provide bite support on its behalf. When you require treatment for a tooth that is visible when you smile and speak, we can recommend the placement of a crown that imitates your healthy enamel.
Talk To Sunny Smiles If You Are Worried About An Aching Tooth
At Sunny Smiles, patients who are concerned over pain or tooth sensitivity can arrange root canal therapy to stop an active problem before it worsens and causes more oral health troubles. In addition to directly dealing with problems within your tooth structure, we will also be able to provide a custom restoration to keep the tooth safe after treatment. If you have questions about root canal therapy, or if you have any other questions about the services that we provide, you can reach our Sunny Smiles location on Dyer St in El Paso, TX by calling 915-859-7000.