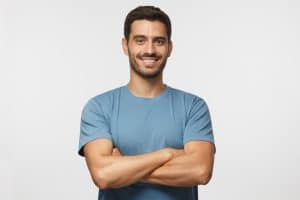 A bright, white smile can have more effect on your overall confidence than you realize, at least until your teeth start to appear dull. As discoloration concerns grow, you can become uncomfortable with your appearance in pictures, and you can be reluctant to let people see your teeth when you speak or smile. Fortunately, this is something that you can address with your dentist's help. Teeth whitening treatment has given many patients an exciting confidence boost by dealing with the stubborn stains that can dull someone's enamel. Sunny Smiles is ready to provide this service to patients, and we can also discuss the benefits of other cosmetic dental procedures for those who hope to positively change the way that they look.
Teeth Stains Can Make A Person Feel Less Confident In Their Appearance
Even if your teeth are free of problems that demand restorative dentistry, you may develop some sense of discomfort around their appearance as they become dull. Stains are difficult to resist, as they can form despite your efforts to keep your smile clean. Because so many foods and drinks are capable of causing them, it can be difficult to change your diet in a way that completely prevents them. While store bought whitening products can have limited impact on the way you look, a professional whitening treatment can help you regain real confidence in the way you look!
Choosing A Professional Teeth Whitening Treatment
When you choose to ask your dentist about teeth whitening treatment, you gain access to whitening agents that are stronger than what you can find on store shelves. Our practice provides whitening kits that are customized for the patients who receive them. This means that in addition to receiving effective bleaching agents that can brighten your enamel significantly, you will receive custom trays that make the application of these agents easier. Over a recommended series of daily treatment, you can see your smile become whiter as the bleaching agents deal with accumulated stains. Typically, patients can see their desired results in less than two weeks!
Should I Consider Alternative Cosmetic Dental Procedures?
Why should you look into other cosmetic dental treatments? For some people, discoloration is just one of several problems that they want to deal with when they explore potential smile improvements. If you are hoping to address issues like dental damage, problems with uneven or awkward tooth shapes, or even concerns about smile alignment, you can learn about the benefits of porcelain veneers. In addition to making multiple improvements to your smile, these restorations can help when discoloration is caused by something other than teeth stains.
Discuss Teeth Whitening Treatment At Sunny Smiles
A teeth whitening treatment provided by Sunny Smiles can help you make exciting changes to the way you look! To learn more, please contact our El Paso, TX, dentist's office on N. Zaragoza Road at 915-849-9000.