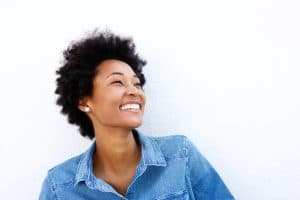 Even minor problems that affect your smile can create big issues for your confidence in the way you look. Discolored teeth, visible changes from wear and tear, or problems with the shape or alignment of certain teeth can be frustrating, and they can be difficult to hide. Fortunately, you can talk to your dentist about permanently addressing these problems so that they no affect you. One cosmetic dental procedure we can offer is treatment with porcelain veneers. Veneers are actually able to address multiple issues at one time, which can mean moving past embarrassment over discolored, damaged, our misaligned teeth.
What Makes Patients Interested In Treatment With Veneers?
There are several cosmetic dental procedures that patients can choose from when they hope to make positive changes to the way that they look. When you choose to improve your appearance with porcelain veneers, you can make many changes at one time, which means that a single procedure can be enough to give you an exciting smile makeover. In addition to making many different changes at one time, veneers can make long-lasting improvements, as the porcelain material used to make them can maintain their condition for the long term.
Having Veneers Placed On Teeth To Restore Their Appearance
To successfully place your veneers, your dentist will first take measurements of the teeth being restored and perform minor preparatory work to make space for your restorations. With the measurements completed, personalized restorations can be made that provide you with your desired smile improvements. Once your custom veneers are ready, you will return to our practice to have them put in place. The placement process ensures that veneers will be permanently fixed in place, which means they can provide you with sustained improvements.
Find Out About Other Cosmetic Services That Can Change The Way You Look
How will you feel about your smile after cosmetic treatment? With a variety of cosmetic procedures to choose from, you can have an easier time achieving your desired esthetic improvements. In addition to providing porcelain veneers, we can restore the shape and size of your teeth through tooth bonding and contouring. This service does not require permanent restorations, and can be completed in as little as one appointment. We also offer services like gum contouring, which can improve the way you look by making your periodontal tissues more symmetrical, or by removing excess tissues to address concerns that your teeth look too short or squat.
Talk To Sunny Smiles About Treatment With Porcelain Veneers!
Through the placement of porcelain veneers, your dentist can give you a brighter, more uniform, and overall more attractive smile! This procedure is one of many cosmetic services that can help patients smile and speak with a renewed sense of confidence. To find out more, you can contact our El Paso, TX, dentist's office on N. Zaragoza Road at 915-849-9000.