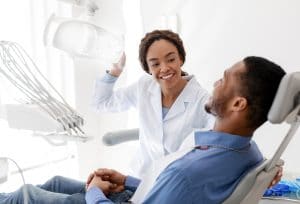 If you want to keep your smile in good health, and avoid problems with tooth decay and gum disease, you should have a daily oral hygiene routine that you consistently follow. Being both thorough and consistent with oral care will help you avoid tartar buildup, which will make it easier for you to protect yourself against issues that require restorative dental work. With that said, it is important that you still follow through with regular dental exams and cleanings in order to keep your smile clean! Tartar formation can affect even those people with good habits in place. When you are not having your teeth cleaned at regular checkups, those deposits can continue to expose you to trouble with gingivitis and cavities.
The Importance Of Fighting Tartar Buildup
Tartar formation can be prevented through good habits. By being as thorough as possible when cleaning your teeth, you can keep plaque from gathering and keep your enamel clean. Unfortunately, even a consistent routine can leave some deposits untouched. When this happens, the plaque that you miss can harden and form tartar, which will not be moved by a toothbrush or floss. Until you have your hygienist clear this substance away, the bacteria in the tartar formation can make you vulnerable to problems like tooth decay and gum disease.
When Was Your Last Dental Cleaning?
If you want to avoid oral health problems that can be attributed to tartar buildup, make sure you schedule consistent teeth cleanings and exams. Every six months, you should return to your dentist's office for preventive care. The cleaning that you receive will clear away plaque and tartar to protect you from harm. During your oral health review, your dentist can spot problems with tooth decay, which can be treated with a dental filling to stop the damage from growing worse.
Other Benefits To Routine Dental Visits
Your routine visits do more than just provide you with consistent tartar and plaque removal! Cavity detection and treatment makes you less vulnerable to issues with advanced tooth decay that can require root canal therapy and a dental crown. Another benefit to your reviews is that your dentist can address other issues that might interfere with your quality of life. For example, a problem with jaw stiffness and pain can be spotted, which can lead to plans for TMJ therapy to ease your discomfort.
Schedule Your Next Dental Cleaning At Sunny Smiles!
Sunny Smiles is prepared to help patients keep their teeth clean and healthy, lowering your risk for problems with gum disease and cavities. Our practice is proud to provide a range of preventive, restorative, and cosmetic services that can raise your confidence in your smile. To find out more, you can reach our dentist's office on Dyer St in El Paso, TX by calling 915-859-7000.