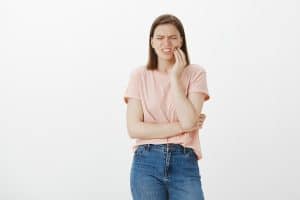 Have you been telling yourself that an aching tooth, or one that has become more sensitive, is not serious enough to require a dental visit? Are you hoping that the problem will simply go away on its own and stop bothering you? People who choose not to act when they have signs of poor oral health can do more than just prolong their discomfort. If you are experiencing discomfort because your tooth is infected, the problem will grow worse over time and raise your risk for losing your tooth! Bring up your troubles with tooth pain or sensitivity so that you can be properly evaluated. If trouble like advanced tooth decay or physical damage are identified, we can put a stop to your troubles by performing root canal therapy.
Toothaches Can Be Linked To Serious Dental Problems
When is it time to take a toothache seriously? While pain or sensitivity can occur for a short time if you have sinus problems, a problem that does not subside for an extended amount of time can be a symptom of infection. Infections can develop when a person's tooth is physically injured, or when a cavity becomes serious enough to expose your pulp to infection by oral bacteria. Bacteria in your tooth will attack living tissues and multiply over time, with the damage they cause capable of costing you your tooth! Fortunately, when action is taken in time, the problem can be resolved with a root canal that rids your pulp of bacteria and infected tissues.
Bring Up A Toothache When You See Your Dentist
Even if you have a routine dental exam scheduled already, you should take care to see your dentist as soon as you become concerned that you have an active oral health problem. By making your treatment a priority, you can see to it that your tooth is restored before the problem grows too serious and it cannot be saved. If root canal therapy does take place, your dentist will make plans to restore the tooth with a custom dental crown in order to keep it safe after treatment.
Arranging Restorative Treatment That Preserves Your Smile
After work is done to address decay or physical damage, your dentist can make plans to restore your tooth so that it is protected from harm and strong enough to absorb bite pressure safely. A root canal will make the placement of a dental crown necessary, as your tooth will require more support than a dental filling offers. When teeth that are visible when you speak and smile undergo treatment, we can recommend the use of a dental crown that imitates your healthy tooth structure.
Talk To Sunny Smiles If You Are Experiencing Problems With A Toothache
Sunny Smiles is prepared to help patients who need treatment for active discomfort. If you have questions about your oral health, or if you believe you require care, you can call our dentist's office in El Paso, TX at 915-859-7000.