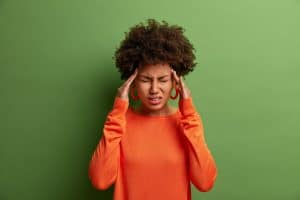 Frequent headaches can have many causes. With that said, if you experience an increase in headaches while also noticing unpleasant changes with painful or stiff jaw movement, an increase in teeth grinding, or sensitivity in your face and jaw, you should say something to your dentist. During a routine dental examination at Sunny Smiles, you can be checked for signs of TMJ disorder. This problem occurs when a person has difficulties with jaw movement or alignment; if it is not resolved, these difficulties can lead to problems with pain, stiffness, and sensitivity. Through TMJ therapy, you can do something about the discomfort that you feel and also return to a more comfortable bite movement.
Unresolved Trouble With Your Bite Function Can Impact Your Quality Of Life
Trouble with your bite can occur because of an injury, because of poor dental alignment, or due to an unresolved issue with teeth grinding that taxes the joints and muscles. When you no longer maintain an even bite, the increase in stress can lead to chronic pain that affects your face, head, and neck. The reason that a problem with your jaw can have these effects is because the trigeminal nerve, which is responsible for jaw movement, also controls sensation in these other areas.
Arranging TMJ Therapy With Your Dentist
TMJ therapy with a custom oral appliance will encourage your jaw to change its position, reducing the stress that you feel and improving your biting and chewing movements. The appliance will be made specially for you, and it will remain in place each night to encourage you to keep your joints better aligned. This can be an effective solution to your trouble, but if necessary, we can also treat problems with your dental health that make biting and chewing more difficult. For example, if you no longer apply pressure in a certain area when you bite down because of a sensitive or injured tooth, we can recommend restoring it with a dental crown.
We Can Also Address The Effects Of Teeth Grinding
One impact of problems with TMJ disorder is the onset of nightly teeth grinding troubles. This is also a problem that can be addressed with a custom oral appliance. However, if it is not caught in time, you may need dental work to address damage to your enamel caused by this habit. If necessary, we can review your options for cosmetic dentistry to improve your smile, or we can talk with you about restorative dental work to resolve any oral health issues your habit might have caused.
You Can Arrange TMJ Therapy At Sunny Smiles!
Through TMJ therapy, it is possible to address problems that are causing you to feel pain in your head, neck, and face while also addressing issues that have affected your bite function. To find out more about our practice and services, contact Sunny Smiles in El Paso, TX by calling 915-859-7000.