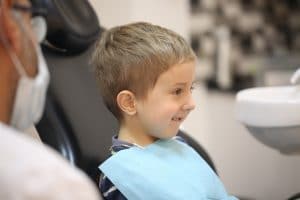 Because a person's oral health needs and challenges can change over time, it is reasonable for you to suspect that you and your kids require different kinds of care in the dentist's office. However, this does not mean that you need to visit separate practices to make sure everyone has the kind of support they really require. Families in and around El Paso, TX can rely on Sunny Smiles for consistent oral health care. During pediatric dental appointments, we will work with kids to help them learn good oral hygiene habits while also protecting them against potential threats. Adults can also receive important preventive care during their routine dental exams, as well as guidance and treatment for issues like TMJ disorder, which can hurt your quality of life.
Does Everyone In Your Household Have Access To Quality Dental Care?
At any age, proper smile care is important. When kids are too young to brush and floss their own teeth, they require support from their parents as well as their dentist. In addition to providing preventive care by cleaning and evaluating their teeth, we can work with them to help them take dental care seriously. For adults, preventive care can focus on prevention as well as the early detection and treatment of problems that may arise. This means more than just fighting cavities and gum disease. You may start to experience problems like TMJ disorder or bruxism, an issue with nightly teeth grinding, due to stress, problems with your jaw movement, or issues with your bite alignment. When this issue is identified and resolved, it can improve your quality of life by reducing stress and discomfort.
Arranging Dental Visits For Kids
During a child's first few visits with our practice, we will take care to make them feel comfortable in their new surroundings while we ease them into the experience of preventive dental treatment. During subsequent visits, we can combine care with instructions on brushing and flossing, along with guidance on why these practices matter. When kids are exposed to these ideas and this support early, they can be better equipped to keep caring for their teeth after they reach an age where they can brush and floss for themselves!
Are You Neglecting Your Own Oral Health Needs?
You should pay attention to the development and care of your child's smile, but you should also focus on protecting your own teeth from possible harm. At your routine dental checkups, you will have tartar deposits removed, have cavities identified and treated with dental fillings, and receive warnings about issues with your bite or jaw alignment that can affect your quality of life. You will also receive updates about your periodontal health in order to keep you safe against gum disease.
Schedule Appointments For Your Family At Sunny Smiles!
Patients of all ages are welcome at our practice to receive quality oral health care! To schedule appointments for yourself and your family members, contact Sunny Smiles in El Paso, TX by calling 915-859-7000.