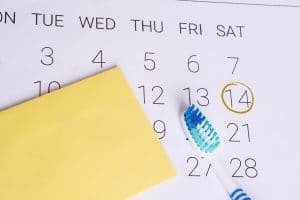 If you want to protect yourself against problems like dental decay and gum disease, you should stay consistent with both daily and professional oral health care. Brushing and flossing are important, but it can be difficult to completely protect yourself against plaque and tartar buildup without your regular dental cleanings. In the event that a problem does occur, regular exams alert you of them and make it possible to schedule treatment early. One reason people sometimes fall behind on routine care is that they simply struggle to find time during the week to see their dentist. Sunny Smiles can make care more accessible for you by offering appointments on Saturdays!
Finding Time For Your Dental Health Is Important
What can happen if you do not take the time to see your dentist for regular care? Going without checkups and cleanings can lead to the following:
Tartar can build up on your teeth, making you more vulnerable to gingivitis and cavities
Problems with tooth decay and gum disease can go unnoticed, giving them time to worsen
Issues like TMJ disorder and bruxism can go undiagnosed, leading to daily aches and pains
Semiannual checkups provide important information for you, and the cleanings performed by your hygienist make you less likely to have problems in the future. Good daily habits should be a priority for you, but be careful not to assume that you can replace professional care with your daily habits alone.
Care Provided During Your Routine Visit
At every routine visit, patients are treated to both a teeth cleaning and an evaluation. The cleaning performed by your hygienist tends to every part of your teeth, with care taken to both evaluate their cleanliness and tend to any plaque or tartar deposits. The removal of tartar is particularly important, as you are not able to remove this material on your own. When your dentist studies your smile, they will look for any problems that should be treated before they worsen.
Regular Appointments Can Lead To The Early Detection And Treatment Of Problems
If your dentist identifies a cavity that has started to form, they can make sure it is treated properly with a dental filling before it can grow worse. Tooth decay is not something that we can stop or control on our own. Without professional restorative dental work, the cavity would continue to grow, leading to potential complications from a painful tooth infection! At appointments, your dentist can also identify problems with gum disease, TMJ disorder, and other issues that can negatively impact your quality of life.
You Can Schedule A Saturday Appointment At Sunny Smiles!
Our Saturday appointments make oral health services more accessible to people in and around the El Paso, TX community. To learn more, or to make an appointment for yourself or a family member, contact the Sunny Smiles dentist's office on N. Zaragoza Road at 915-849-9000.