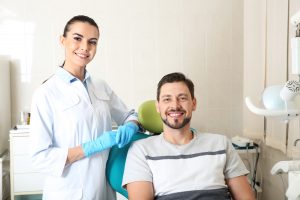 There are many benefits to staying consistent with your routine dental exams. One reason to stick with the schedule of treatments recommended by your dentist is that you can have problems identified and treated while they are still in their early stages. Patients who go longer between visits are more likely to develop problems with advanced decay. They can also run into a problem of having more than one cavity that requires restorative dental work. At Sunny Smiles, we are ready to work with you if you need multiple cavities addressed. In addition to taking on all of your problems with decay, we can provide dental crowns and dental fillings that match the appearance of your healthy enamel.
Patients Sometimes Need Treatment For Multiple Problems
More than one cavity can form between dental visits, especially if you are not sticking to a semiannual appointment schedule. Each cavity will obviously require attention and treatment to be stopped, but you may worry at the time and amount of care this requires. In the event that you need help restoring several teeth, we will help you understand what your treatment options are and how severe the decay has become. Pointing out advanced cavities is important because it enables us to recognize which ones have the most immediate need for restorative work.
The Severity Of A Cavity Can Change How It Is Treated
What kind of care will take place when you undergo restorative work? For cavities that are advanced enough to cause tooth infections, treatment will include both root canal therapy and the placement of a dental crown. If you only have a minor cavity, one that has not made its way through your enamel, a dental filling can be used to restore the tooth. While a smaller cavity is less urgent than one that has already caused an infection, remember that waiting too long for treatment can lead to a new infection.
We Can Restore Your Teeth And Make Sure Your Smile Is Preserved
Because we offer dental crowns and dental fillings that match your healthy tooth structure, we can preserve your smile even as we do work to restore several teeth affected by decay. These restorations provide functional as well as cosmetic support to make sure that you have no complications after treatment. Once treatment is finished, you should be able to bite, chew, speak, and smile with confidence again!
Sunny Smiles Can Help You Address Your Cavity Concerns
Our dentist's offices have helped many people in and around the El Paso, TX area who are concerned about their dental health. In addition to closely evaluating your smile, we can make plans to restore it even when several problems have developed since your last appointment. To find out more, contact Sunny Smiles in El Paso, TX by calling 915-859-7000.