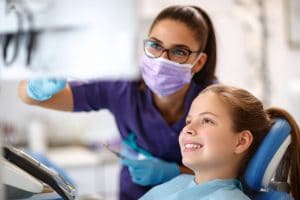 Young children depend on their parents for both dental and general health care. Until they are old enough to comfortably maneuver a toothbrush on their own, kids need assistance with basic brushing and flossing, making your role in their oral hygiene an active one! As important as you are to protecting their growing smile, you should not be the only one assisting them. Once a child's teeth begin arriving, they should start to see their dentist for routine preventive care. During pediatric dental visits, Sunny Smiles dentists will provide treatment in a friendly and reassuring manner while providing routine care and updates on the development of a young patient's oral structures. Exams can lead to the early detection and treatment of developmental issues, while preventive dental care can keep kids safe from problems like tooth decay!
Dental Care Is Important At An Early Age
If you have teeth, you should take preventive dentistry seriously. After all, a cavity at any age is a problem, one that requires restorative dental work to be effectively addressed. Even at a young age, a child's teeth will have meaningful protection from the outer layers of enamel that surround them. While this natural protection matches the support adults enjoy, kids do have some disadvantages when it comes to preventing cavities. They often have a harder time resisting foods and drinks that are high in sugar, and they have to be introduced to the basics of daily oral hygiene.
Pediatric Dentistry Gives Parents Important Updates About A Child's Growing Smile
Because children are still in the process of growing, their oral structures are going through development that your dentist can monitor. By providing regular updates about their growth, it is possible to identify potential concerns that need to be taken on. That can mean recognizing the early signs of malocclusion, and the eventual need for braces, as well as other problems with the way teeth and oral structures develop. This feedback comes along with regular updates about the condition of your child's smile, warnings about dental decay, and other concerns patients of all ages face.
Your Dentist Can Help Your Child Develop Good Oral Hygiene Habits
Even if they are not yet old enough to brush and floss without your help, it is a good idea to give kids a basic understanding of oral hygiene. With the right information, they can start to appreciate why preventive care is important, and why you need to limit their access to sugary treats. While you have an important role to play in helping kids learn about hygiene, your dentist can also help by providing instructions and guided assistance during routine appointments!
You Can Bring Your Kids For Children's Dental Care At Sunny Smiles!
Sunny Smiles is ready to help families in and around El Paso, TX keep their kids safe from oral health problems! If you have questions about our practice or services, you can find out more by calling the Sunny Smiles office on Dyer St at 915-859-7000.