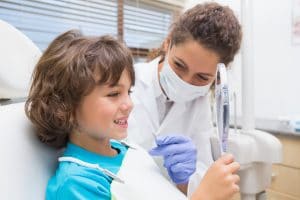 The holidays can be a special time for everyone, but it can be particularly fun for kids. Even stay-at-home activities can be rich with traditions, fun, and more than a few seasonal treats. These festive treats, along with the change in everyone's routine when kids are out of school, can interfere with your risks for oral health problems like tooth decay. Because kids tend to have less impulse control, and younger kids can be less clear on why good preventive dental care matters, they can be even more vulnerable to cavities at this time than their parents. Sunny Smiles is ready to meet with our young patients and provide important support during pediatric dental visits.
The Holidays Can Raise Everyone's Risk For Oral Health Problems
No matter how casual or busy your family is during the holiday season, you can expect some changes in everyone's routines as well as changes in your diet. These changes can certainly be enjoyable, but it can lead to an increased risk for people to experience problems with their dental health coming out of the season. There are actions you can take to control this. Staying committed to good brushing and flossing habits and making smart diet choices will be important. While everyone should be mindful of their risks, it is particularly important to keep kids safe from possible problems with dental decay.
What Can You Do To Protect Your Kids From Cavities During The Holidays?
If you expect to have an assortment of festive treats during a celebration, plan around this by limiting the access your kids have to sugar before and after you all enjoy yourselves. By doing so, you can still restrict their sugar consumption and protect their teeth. Make sure that you also encourage them to keep up with good brushing and flossing behaviors while they have a break from school. Because kids' sleep schedules can change during these periods, they may "occasionally" let their responsibilities for brushing and flossing slide.
Pediatric Dental Care Offers Important Care For Growing Smiles
Just as regular dental checkups for adults provide long-term support against dental decay and gum disease, regular visits for kids can help them avoid trouble with their oral health. These visits can also be good for helping kids learn the importance of good habits between appointments, which can lead to fewer problems over time.
You Can Bring Your Kids For Dental Care At Sunny Smiles!
Families in and around El Paso, TX can count on Sunny Smiles to provide quality oral health care services. At every appointment, a patient will enjoy dedicated care in the form of a close evaluation and thorough cleaning. For kids, we also focus on providing guidance and instructions to help them learn to sustain good habits! For more information, contact our Sunny Smiles dental office on N. Zaragoza Road at 915-849-9000.