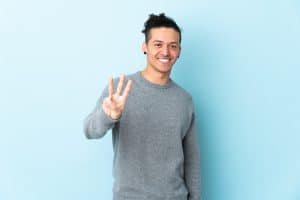 By choosing to go without the support of regular dental exams, you deprive yourself of important feedback about the state of your smile and overall oral health. At every checkup, you are checked for the different issues that can call for treatment. When they go untreated, the complications that occur can have significant long-term consequences for your well-being! Remember that in addition to having your teeth and oral structures closely checked, you will undergo a thorough cleaning from your hygienist. This is also important for your oral health, as it leads to the removal of tartar deposits that can form between appointments.
1. Cavities Can Be Caught (And Treated) Before You Experience Complications
By the time you start to feel active discomfort from tooth decay, the cavity can be serious enough to require root canal therapy and a dental crown. This can be an involved process, one that you are not likely to look forward to! With regular checkups, you have your teeth checked for early signs of decay on a regular basis. Cavities that are recognized in their early stages, before you start feeling discomfort, can be resolved with treatment that only requires the placement of a dental filling. Your tooth is restored in a less involved process, and more of your enamel is preserved!
2. Signs Of Gingivitis Can Be Identified During Your Exam
Have you been underestimating the threat posed by gum disease? If an infection forms and is not treated in time, it will eventually lead to problems with periodontitis. This can lead to problems with your overall health, and it also makes you vulnerable to tooth loss due to the destruction of tissues that support teeth. Every routine exam includes a check for symptoms of gingivitis. Evidence of an infection will lead to a thorough periodontal cleaning to remove bacteria on the roots of your teeth to stop it and restore the health of your tissues.
3. We Can Discuss Problems With TMJ Disorder And Bruxism
If your jaw movement is out of alignment, if you have an awkward or uneven bite, or if you struggle with teeth grinding on a nightly basis, problems with pain and stiffness can become a persistent issue for you. Signs of bruxism and TMJ disorder can be recognized at your regular visit – when these problems are identified, we can discuss the benefits of oral appliance therapy to protect your teeth and correct the alignment of your jaw joints.
Schedule A Dental Checkup At Sunny Smiles!
By consistently visiting your dentist for routine reviews, you receive important updates and early warnings about oral health issues that can affect you. Between your evaluations and your regular cleanings, you can stay protected and retain a healthy, confident smile! To find out more, contact our Sunny Smiles office on N. Zaragoza Road at 915-849-9000.