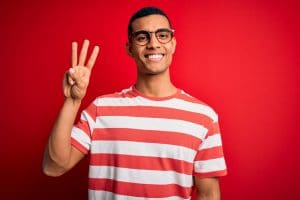 Patients who feel unhappy with the way they look can have negative feelings about their smile even when they are not experiencing any oral health issues. If your teeth are healthy, but you still wish to make changes to them, you can make an appointment to discuss cosmetic dental work. A successful procedure can require fewer changes than you anticipate, and one treatment can be enough to address a range of concerns about the way you look. Those who want to see long-term improvements, and those who want to make several changes to their appearance, can be excited to learn what porcelain veneers can do for them. With this one approach to cosmetic care, many different problems can be resolved with the use of thin yet durable restorations!
1. Your Veneers Can Deal With Discoloration Caused By Internal Tooth Problems
Teeth stains are often the reason a person's smile becomes discolored. That does not mean a teeth whitening treatment is right for everyone who worried about discoloration! In some cases, internal issues make teeth look dull or discolored. To deal with these problems, porcelain veneers can provide coverage to hide blemishes, or to address problems with enamel erosion that affect tooth color. Your dentist can review your smile to let your know if this might be a beneficial alternative to arranging a whitening procedure.
2. Bothered By Wear And Tear From Teeth Grinding? Veneers Can Help
Over time, the wear and tear from teeth grinding can change the quality of your smile by making teeth look older, less healthy, and misshapen. To deal with this situation, your dentist can recommend having teeth restored with custom veneers. Cosmetic restorations can cover chips and cracks, or even change the shapes of teeth that have been worn down. Another thing we can do is restore damaged teeth with dental crowns, something that can become necessary if problems with teeth grinding end up causing oral health problems for you.
3. Cover Flaws Caused By Poor Teeth Spacing With Veneers
In some cases, it is possible to make cosmetic improvements to a poorly aligned smile without orthodontic work. The placement of veneers can help you, as your restorations will cover the spaces where teeth meet in order to hide gaps or cover overlaps from teeth that are too close together. This can lead to better smile alignment without the wait that orthodontic treatment can require!
Discuss Treatment With Dental Veneers At Sunny Smiles!
Cosmetic problems can frustrate many people, but the right treatment can ensure that these issues are resolved with less work, and in less time, than you think possible! To learn more about the benefits of treatment with porcelain dental veneers, or any other cosmetic procedure we offer, contact Sunny Smiles in El Paso, TX by calling 915-859-7000.