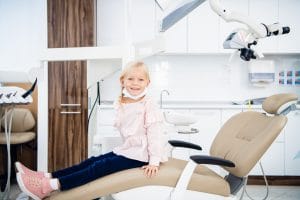 For children, the right experience in the dentist's office is about more than just protection from cavities and gum disease. For younger kids especially, it is important to make them feel welcomed and safe in their surroundings. Positive early experiences with pediatric dental care, can make return trips easier for children, and make them more responsive when it comes to instructing them on how to care for their teeth at home. Sunny Smiles has experience working with patients of all ages. We can make sure adults receive the appropriate preventive dental care to avoid issues with dental decay and gum disease. We can also introduce kids to important matters of oral hygiene, protect them from dental problems, and monitor their development to make sure there are no issues with their oral structures that will require treatment.
We Have Experience Working With Patients Of All Ages
Our practice welcomes patients of all ages, and we understand that patients' ages can affect what kind of treatment experience they require. It is important to make sure that kids – particularly younger kids – have positive experiences in the dentist's chair. When they do, they are more likely to feel safe and comfortable with future visits. In addition to making them less likely to resist future appointments, early visits can provide protection so that they do not experience complications from tooth decay while their teeth are still arriving.
We Can Help Kids Grow Comfortable In The Dentist's Chair
If your children have good experiences in the dentist's office, they can feel better about coming back. To make sure they feel welcome and safe, our practice goes out of our way to provide a friendly and safe atmosphere for them. At an initial appointment, we can take time to introduce them to their surroundings and familiarize them with both our office and staff. By doing this, we can make returning more comfortable, and we can ease them into the kind of conventional preventive dental care that helps all patients avoid trouble with their oral health.
Regular Checkups Give You Important Feedback About Your Child's Growing Smile!
By regularly bringing your kids in to have their teeth evaluated, you can receive updates from your dentist about their dental health as well as their growth. Developmental issues like malocclusion – problems with the alignment of teeth – can be identified early, which means there is time to intervene and help them. Remember that our practice is ready to do more than just update you about your child's oral health. Because we are an all-ages practice, we can also take care of you during a dental exam and cleaning!
You Can Bring Your Kids For Dental Care At Sunny Smiles!
Our dentist's offices are ready to care for patients of all ages in and around the El Paso, TX community! To learn more about us and our services, contact our Sunny Smiles office on N. Zaragoza Road at 915-849-9000.