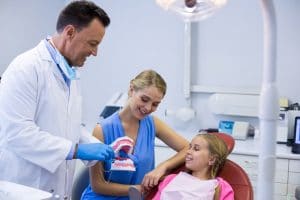 A typical family can stay busy throughout the week. Because of this, adding a trip to the dentist's office can feel like a challenge, even when you recognize the value of these appointments for your smile's well-being. To make our dental services more accessible, Sunny Smiles does offer appointments on Saturdays! Because of this, parents can have an easier time figuring out when they can bring their kids in for pediatric dental services. They can also make sure their own oral health needs are being tended to by booking their own appointments. Remember that consistent care is important at every age. Through consistent visits, you stay informed about the condition of your smile while also having protection against plaque and tartar buildup.
Do You Have A Hard Time Scheduling Services During The Week?
Between your own obligations and the various activities your kids enjoy, it can be tough to find daylight in your calendar, even when you are trying to make everyone's health needs are being met. Between this lack of time, and the tendency for places of business to limit their hours to the weekdays, you may worry that you will fall behind on preventive dental care. If this is the case, speak with our office about coming in on a Saturday! We can make sure that everyone in your family has the support they require to stay in good oral health.
The Value Of Staying Consistent With Regular Dental Exams
By staying consistent with regular dental exams, you will be protected against tartar formation, and you will also receive early warnings if any problems develop that require restorative dental work. If it is necessary, we will make sure a cavity is promptly dealt with by restoring your tooth with a dental filling. When you miss out on regular preventive care, a cavity can form, grow, and eventually cause serious discomfort because your tooth becomes infected. These visits also lead to early detection and treatment to help with gum disease, teeth grinding issues, and other concerns.
Make Sure Your Kids Enjoy Regular Access To Dental Care
Regular pediatric dental exams do more than just provide kids with routine cleanings and reviews. For younger children especially, dental visits do important work teaching good oral hygiene habits. When kids see their dentist regularly, they can benefit from guidance on brushing and flossing at home that will help them take great care of their teeth as they grow up, which means fewer problems that require professional services!
Set Up Dental Appointments For Your Family With Sunny Smiles!
Because our dental offices welcome patients on Saturdays, Sunny Smiles can make treatment easier for everyone in your family to access! If you would like to learn more, you can contact our Sunny Smiles dentist's office on N. Zaragoza Road at 915-849-9000.