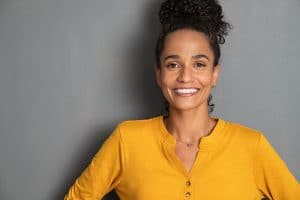 When you start to look into the different cosmetic dental services available to people, you may have a tough time determining which one might be right for you. For people who want to see significant changes, or those who want to make sure their improvements last, porcelain veneers can be particularly appealing. Veneers are carefully designed shells that are affixed to the fronts of teeth. They are customized to ensure that they make a tooth the right shape and size to ideally fit a person's smile. If you are interested in scheduling cosmetic dental work in the El Paso, TX area, Sunny Smiles is ready to talk with you about porcelain veneers, and we can also review the benefits of other procedures that could benefit you!
Veneers Are Capable Of Making Significant Smile Improvements
You can see significant smile improvements with the placement of veneers alone. They are often relied on when patients have trouble with dental wear and tear from overuse or teeth grinding, when discoloration is a concern, or when a dental injury has left someone with a noticeable chip or crack in a tooth. Veneers are also often recommended when patients want to deal with several problems at one time. When they cover teeth, they can completely hide their surfaces so that problems with their color, shape, size, and alignment are all addressed.
What Does The Placement Of Veneers Involve?
Before your veneers can be designed, your dentist will carefully study and measure your teeth. This initial evaluation lets us determine the precise shape and size for veneers to make the right improvements to the way you look. At this visit, your dentist will also perform work to carefully modify teeth so that they provide space for your veneers. Once they are ready, your restorations will be bonded to your teeth to provide the coverage and improvements that you desire!
Veneers Provide Changes That Last
There are several procedures that are available to patients who express a desire to learn more about cosmetic dentistry. We can deal with discoloration by offering a teeth whitening treatment, or we can recommend tooth bonding and contouring work to change the shapes and sizes of flawed teeth. While veneers can require more preparatory work and time than other cosmetic treatments, the porcelain shells placed on your teeth can be counted on to maintain their appearance for many years. As slim as they are, these restorations are designed to hold up admirably through years of biting and chewing, which gives patients the ability to continue smiling with confidence!
Discuss Veneers At Sunny Smiles In El Paso, TX!
People in and around El Paso, TX can come to Sunny Smiles to enjoy exciting cosmetic dental procedures. Through just one procedure, we can help you deal with discoloration, damage, and naturally occurring issues that affect the shape or size of your teeth. If you would like to learn more, contact Sunny Smiles by calling 915-859-7000.