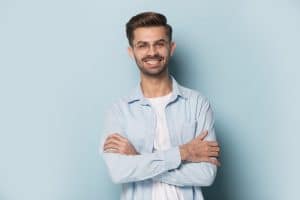 Why have so many people looked to their dentist for help with teeth stains? There are often a variety of over the counter whitening treatments available at grocery stores and pharmacies, but these products may lack the effectiveness to deal with deeper, tougher stains. If you want to see significant smile improvements, a professional cosmetic dental procedure can be necessary. Sunny Smiles gives patients access to advanced whitening agents that they can actually use at home! This approach combines the convenience of kits that are purchased over the counter with the effectiveness of professional care. When your treatment is complete, you can be delighted to see that your teeth are now many shades brighter than before!

Have You Found It Difficult To Fight Teeth Stains?
Fighting teeth stains can be tough. Even if you are successfully preventing cavities with your preventive dental care routine, stains can slowly accumulate over time. This can be particularly true for people who use tobacco products, or those who often enjoy foods and drinks that are dark or rich in color. You can make some changes to your appearance with whitening toothpastes, or with over the counter whitening products, but you can find it hard to make meaningful changes to your smile without talking to your dentist. When you do look into cosmetic dentistry, you can find that the process of improving your smile can take less time and effort than you anticipate!
Taking Home A Teeth Whitening Treatment
When you take home a customized whitening kit, you receive potent bleaching agents from your dentist as well as personalized trays that make applying those agents easy. Once you begin this process, you will go through the process of applying the whitening agent to your enamel once a day for a recommended period of time. Patients tend to see their desired outcomes within two weeks of starting their treatments.
Should You Consider Other Cosmetic Treatment Options?
For many patients, a teeth whitening treatment is an ideal solution for their cosmetic concerns. However, some will benefit from learning about other procedures. One procedure you may want to consider is treatment with porcelain veneers. Veneers can do more than just make teeth look whiter – when they are placed, they can cover chips, cracks, and other problems that have hurt the way you look. We can also review the benefits of a bonding and contouring procedure to hide a variety of flaws.
Discuss Professional Teeth Whitening Treatment At Sunny Smiles!
By taking home a professional whitening treatment from our practice, you can start a process that ends with you showing off dazzling smile improvements! If you would like to learn more about this procedure, or any other cosmetic service that we offer, contact Sunny Smiles in El Paso, TX by calling 915-859-7000.