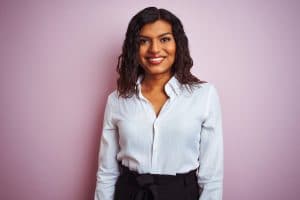 If you have to have treatment for a cavity, will the dental filling or crown you receive be a problem for your smile? In the past, you may have gone to a dentist's office that provided restorations made from metal, which offer durability but stand out when placed on teeth. Sunny Smiles patients who experience dental decay have access to restorations that are made from substances that can actually imitate their healthy tooth enamel. Our biocompatible resin fillings can match the color and look of your enamel, and they can even bond to your tooth to provide long-lasting support!
Can I Have A Cavity Restored Without Changing My Smile?
Patients can have some understandable concerns about the way restorative dental treatment might change their appearance. This can be a particularly urgent concern if your cavity is in a conspicuous space. You can be relieved to know that our practice uses restorations that offer cosmetic as well as functional benefits. While they are capable of protecting teeth from harm, these restorations are also able to match their color and texture so that they avoid detection.
How A Dental Filling Is Placed
Before you receive your dental filling, your dentist will remove all of the infected portion of your tooth. After this is accomplished, the filling is used to close the space that was left behind after your treatment. Because the material we use for these restorations is biocompatible, your surrounding tooth structure will bond to it, producing a secure hold while avoiding detection. Your tooth will remain safe from potential infection, and you will be able to bite, chew, speak, and smile without any interference from your restoration!
Some Cavities Require More Than Just Fillings For Treatment
It is not always possible to protect teeth with custom dental fillings after decay affects someone's oral health. A cavity that grows large enough will cause more damage than a filling can be trusted to address, which means another approach has to be taken to restoring the tooth. We can use a dental crown to cover the tooth in this situation. The coverage provided will keep the tooth safe and allow you to bite and chew without problems. We can ensure that a crown imitates your tooth structure so that your smile is not changed by this treatment. In some cases, it will be necessary to perform root canal therapy before your crown is put in position.
Sunny Smiles Can Restore Your Tooth Without Changing The Way It Looks
Sunny Smiles is prepared to help people in and around the El Paso, TX area who experience problems with dental decay. In the event that you need a dental filling for your tooth, we can place one that closely matches your surrounding enamel while giving it lasting protection. If you wish to find out more, please contact our dentist's office on N. Zaragoza Road at 915-849-9000.