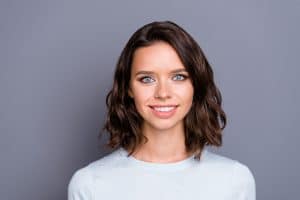 If you have goals for improving your smile that you feel may be too ambitious, take time to talk to your dentist before giving up hope! Many people who look into cosmetic dentistry will learn that the improvements they want are more attainable than they would have assumed, and that they can be secured with as little as a single procedure! Sunny Smiles has several treatment options available to patients who want cosmetic work done, which helps us find the right service to give individuals the smile changes they really want. After examining your teeth and hearing what your concerns are, we can help you find the most conservative treatment option for making all of your desired changes!
What Can Cosmetic Dentistry Do For Your Appearance?
There are many services that we offer patients who want to do something about the way they look. Treatments can help with discoloration, hide damage that affects teeth, or even cover problems with tooth shape and alignment. If you have several problems that you can currently point to, asking about treatment can lead to an exciting discovery – it may only take one procedure to fix all of the current flaws that you have!
How Much Work Will I Need To See The Results I Want?
With just one procedure, it may be possible to take care of all of your smile concerns. For many people, porcelain veneers are effective at resolving all of their problems. The placement of veneers helps with spacing problems, hides damage, positively changes the shape of teeth, and even covers up discoloration. We can also make significant changes to the appearance of teeth through dental bonding and contouring work.
While you might be eager to see the fastest results possible, you may find that agreeing to more than one procedure delivers exciting results while minimizing changes to your actual tooth structure. A combination of gum contouring and teeth whitening can make your smile brighter and more uniform while also adding length to teeth that look short. You can find that these services make dramatic changes to the way you look while avoiding alterations to your enamel.
The Right Cosmetic Treatment Can Lead To Long-Lasting Results
Once your cosmetic treatment is complete, you can start showing off a significantly improved smile. Procedures provided in our practice are intended to provide long-term benefits. To ensure you continue to feel good about your results, consider treatment with porcelain veneers. The porcelain substance used to create these restorations is strong enough to withstand damage and avoid picking up stains for many years, even as you continue to expose your veneers to friction from biting and chewing!
Sunny Smiles Can Help You Show Off Impressive Cosmetic Improvements!
Sunny Smiles is prepared to help patients fix problems with their appearance. You can find that the right approach to cosmetic dentistry limits the amount of work needed for your smile while producing significant changes in the way you look! To find out more about our practice and services, contact our dentist's office on N. Zaragoza Road at 915-849-9000.