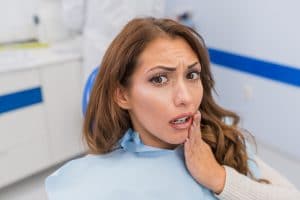 If someone you care about suffers a dental emergency, what can you do to help them? The first thing to do is help them remain calm, and remind them that a dentist can assess the problem and restore both their oral health and smile. Sunny Smiles does make emergency dental appointments available when patients have problems that require urgent treatment. That means we can bring someone in to have a problem with an injured, loosened, or knocked out taken care of. We can also take on a problem with a severe toothache, or even an issue with something that becomes wedged between teeth that cannot be removed.
Make Treatment For An Injured Tooth A Priority
While you should encourage your loved one to stay calm, it is important that you treat the injury like a priority. If you let a vulnerable tooth go untreated for an extended period of time, its condition can worsen. That may mean losing more of the tooth structure to damage, or it could mean experiencing problems with an infection or internal injury. If too much time passes, a tooth that could have been saved can reach a stage where the only option left to your dentist is extraction.
Bringing A Loved One To The Dentist's Office For Urgent Care
After arranging urgent care for a loved one, you can help them make it to their dentist's appointment. Remind them to avoid putting pressure on the tooth, and stick with over the counter pain relievers like aspirin to manage their discomfort. If you need to help them carry a lost tooth to the dentist's office, only handle its crown, not the roots. To keep it from becoming too dry, you can transport it in a small quantity of milk.
Our Response To Dental Trauma Can Preserve A Patient's Smile
With the right restorative dental procedure, we can make sure a tooth is both protected and attractive. This is possible because we can place a dental crown that imitates the appearance of healthy dental enamel, which means the restored tooth will look the way it did before the injury occurred. If an injury is only superficial, we can use a more conservative procedure, like treatment with porcelain veneers or tooth bonding, in order to preserve the way they look. In the event that a tooth cannot be saved, prosthetic dental work can fill in their incomplete smile and preserve their bite function.
Sunny Smiles Is Ready To See Patients In Need Of Emergency Dental Work
Patients at Sunny Smiles can be relieved to know that they are able to see us on short notice if they experience a dental emergency. To find out more about the urgent services that we provide, or to discuss the routine care available from our practice, contact Sunny Smiles in El Paso, TX by calling 915-859-7000.