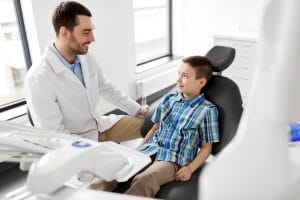 Taking care of your kids sometimes means finding the right professionals to tend to their needs. While you certainly have a role to play in protecting your child's smile, pediatric dental appointments provide an important degree of support. These visits keep you informed about the arrival of their teeth and the development of their oral structures. They also give your kids the opportunity to learn about the importance of oral hygiene, and even receive instructions on caring for their teeth at home. Regular appointments with their dentist help kids grow comfortable with oral health care, and they provide valuable protection against tooth decay.
When Should I Start Bringing My Child To The Dentist?
A child should have their first visit with their dentist soon after their first tooth arrives, or by their first birthday. When they first arrive for treatment, we take care to make them comfortable in their new surroundings so that they can take away a positive impression of their dentist and the practice. Early appointments take care to introduce them to oral hygiene, and they provide you with updates about their development as they are growing.
How Vulnerable Are My Kids To Cavities?
If you have teeth, you have the potential for cavity problems. Fortunately, tooth enamel provides protection even at an early age. Because kids have to learn to practice oral hygiene, and because they often have a harder time turning down sugary foods and drinks, they can be vulnerable to issues with decay. Before they start to brush and floss on their own, you can take care to keep their teeth clean. Between your guidance, and instructions from your dentist on dental care at home, kids can pick up the right habits and stay safe against dental decay.
What Happens If My Child Needs Dental Work?
By bringing kids in for regular dental exams, you ensure that any problems they experience are caught and promptly treated. Restorative dentistry takes care of cavities by stopping decay and protecting teeth with dental fillings or dental crowns. When kids require restorative treatment, we take care to minimize any changes to their tooth structure while still targeting and removing infected tissues. Early treatment keeps them safe against complications that can lead to toothaches and other concerns.
Parents Can Bring Their Children For Dental Care At Sunny Smiles!
Once your child's teeth begin arriving, you need to think about how you can protect them against tooth decay. Sunny Smiles is prepared to help patients of all ages, which means we are happy to welcome parents and their kids for dental care. To learn more about the pediatric dental services we offer, or to discuss other aspects of the care available to your family, our El Paso, TX, dentist's office on N. Zaragoza Road can be reached at 915-849-9000.