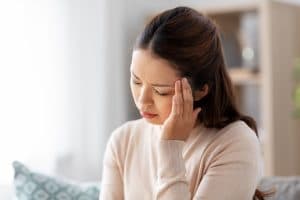 If you live with chronic aches and pains in your face and jaw, or suffer headaches on a regular basis, you may be struggling with a problem that your dentist can help you address. Over time, problems with poor bite movement, uneven jaw alignment, and teeth grinding can lead to TMJ disorder. If problems with your joint alignment or jaw movement is putting stress on your jaw, it can be difficult to go through your day without some form of pain and stiffness. Fortunately, this is a problem that your dentist can identify and treat. People who struggle with TMJ disorder can be helped with a custom oral appliance that gently changes the position of their jaw in order to alleviate stress and reduce discomfort!
Are You Suffering From Issues With TMJ Disorder?
There are several issues that can lead someone to start suffering from TMJ disorder. Your trouble with pain and stiffness could be the result of a problem with an awkward or uneven bite movement. An injury that alters the alignment of your joints, or stress from teeth grinding, can also be what leads you to struggle with issues that stem from TMJ disorder. In addition to looking for symptoms of problems with gum disease or tooth decay, your dentist will check to determine if your quality of life is affected by this condition during a routine dental exam.
The Benefits Of Oral Appliance Therapy
To put a stop to problems with headaches, stiff or painful jaw movement, and other problems linked to TMJ disorder, it can be necessary to gently correct your jaw joint alignment. To do this, we can provide a custom oral appliance to patients in need of help. When worn, it will change the way your jaw is positioned in order to help change your joint alignment and reduce stress. By encouraging your jaw to change its resting position, we can reduce tension and let you live without headaches, jaw pain, and difficult bite movement.
Addressing Related Issues With Teeth Grinding
Teeth grinding problems can be a consequence of TMJ disorder, or the reason that you start to have problems with your jaw. Because these two issues are often linked, it can be necessary to address both to truly improve a patient's oral health. In addition to providing a custom guard to cut out nightly teeth grinding, we can restore teeth that have been damaged by your uncontrolled habit or clenching or grinding.
Sunny Smiles Can Help Relieve Your Issues With Pain And Headaches
People in and around the El Paso, TX area who experience problems with jaw pain, stiffness, and headaches can visit Sunny Smiles for help with TMJ disorder. By providing a custom oral appliance that encourages your jaw to stay in a more comfortable position, we can ease tensions you are unconsciously putting on your joints and muscles, addressing issues that are responsible for your discomfort. To find out more, contact our Sunny Smiles office on N. Zaragoza Road at 915-849-9000.