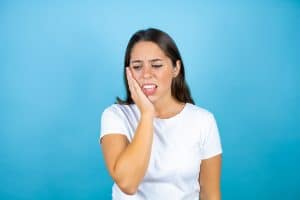 If your tooth is infected, is there any way it can be saved, or will it have to be extracted? Eventually, an infected tooth will reach a stage where treatment is not possible, and the only option left is to remove it so that it does not cause any more trouble for your overall oral health. Fortunately, this is a problem that can be avoided when root canal therapy is performed. Root canal therapy involves the careful removal of bacteria and infected tissues from the tooth's inner chamber, known as its pulp. Sunny Smiles is prepared to restore your tooth's health by performing this procedure. We can also help you avoid problems like this by keeping you informed about the state of your smile at regular dental exams!
An Infected Tooth Is Something You Should Be Worried About
If you suspect that your tooth is in poor health, or if your dentist has warned you about an infection, you should be concerned. This is a problem that grows worse as time passes, which means you can put your oral health in more jeopardy by waiting to have work done. The bacteria in your tooth will spread through its roots over time, leading to new problems with your well-being. After a certain point, too much harm will occur to make saving a tooth possible, which means the only option left is its extraction.
Scheduling Root Canal Therapy
Patients who have never gone through root canal therapy can feel uneasy about this treatment, as they may fear it will be uncomfortable. We can take care to make sure discomfort is minimized when performing this procedure. The treatment will see the tooth's pulp accessed, at which point your dentist will carefully clear out bacteria and infected tissues before sealing this inner chamber. Once this is done, your tooth will be protected with a custom dental crown.
An Extraction Will Take Place If A Tooth Cannot Be Saved
You may be reluctant to have a tooth extraction performed – after all, this does mean the permanent loss of your tooth! What you should remember is that extraction protects your oral health and also puts a stop to the pain caused by an advanced infection. If you want to avoid this procedure, make sure you regularly see your dentist. At routine dental appointments, problems like tooth decay can be caught early and treated before there are complications that have to be dealt with.
Sunny Smiles Is Ready To Help Patients With Serious Oral Health Issues
Our practice is ready to help patients in and around the El Paso, TX area who are concerned about their oral health. In the event that you develop a tooth infection, we can provide root canal therapy and stop the problem from growing severe enough to require an extraction. To find out more, please contact Sunny Smiles at 915-859-7000.