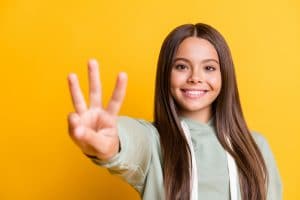 When dental problems occur, they should not be ignored. Once an issue requiring restorative dental work arises, it will worsen until treatment is provided. Fortunately, the work to address the matter can have long-term benefits. Problems that affect the health and appearance of a tooth can often be treated with dental crowns. We rely on dental crowns to address cavities that are too large to be treated with dental fillings, but they have other uses. Simply put, a crown can be a useful solution for any problem that negatively affects a tooth's shape and size, as well as for one that interferes with your ability to bite and chew.
1. Advanced Tooth Decay
While cavities are often treated with dental fillings, they sometimes require more protection. When a cavity grows too large for a filling, your dentist can determine that a crown should be used instead. After decay is dealt with, we can prepare the tooth to be capped with a restoration that is custom-made to fit comfortably. This may follow root canal therapy, which is needed when cavities cause internal problems for you.
2. Physical Injuries That Affect Your Tooth Structure
If you suffer dental trauma, know that our practice can see you on short notice to provide emergency dental services. At your emergency appointment, we can talk with you about what needs to happen to restore your tooth. The amount of damage needs to be assessed before we can determine what kind of work is best suited to the problem with your smile and oral health. For some patients, emergency treatment will end with cosmetic dental work to address smile flaws. However, in many cases damage has to be addressed with a custom dental crown.
3. Naturally Occurring Problems With A Tooth's Shape Or Color
Some people have issues with the shape or size of certain teeth that are not linked to active oral health concerns. In these situations, we can discuss using a crown to help you. This restoration can give more functional support to an undersized tooth, or hide blemishes that are not effectively treated with professional whitening treatment. While fixing a naturally occurring flaw may seem like a purely cosmetic matter, some issues with tooth shape and size can affect your bite function enough to interfere with your oral health.
Sunny Smiles Is Ready To Restore Your Problem Tooth With A Custom Crown!
With a custom dental crown, we can take care of problems that affect your appearance as well as your oral health! Our practice has served many people in the El Paso, TX community who were in need of treatment for injuries, dental decay, and naturally occurring problems. This is one of many services that we can provide. To find out more, or to schedule a routine dental visit, call our dentist's office on N. Zaragoza Road at 915-849-9000.