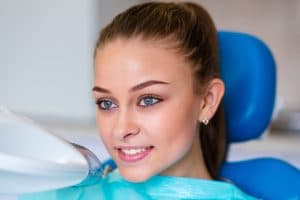 As important as it is to keep your teeth in good condition, their health is not your dentist's only concern during a routine dental checkup. These visits also focus on your periodontal health. By doing so, we are able to watch for any worrying signs of infection that should be addressed. If you show signs of gingivitis during an appointment, we can recommend a periodontal cleaning, or scaling and root planing, to stop the infection from growing more serious in time. The goal of preventive dental appointments is to protect your smile from the different issues that can form and impact your well-being. While cavities are a serious concern, you should also see gum disease as a real problem, as it can lead to tooth loss and problems for your general health when it is not managed properly.
Poor Periodontal Health Can Have A Serious Impact On You
Gingivitis is a real concern, but it is something that can be resolved through better oral hygiene and a periodontal cleaning. If the bacteria that cause gingivitis are not dealt with in time, your condition can worsen as those microbes spread and grow. When an infection progresses, it becomes difficult to manage, and it can lead to the destruction of tissues that are responsible for securing your tooth. You may be surprised to learn that this destruction is a common cause of tooth loss!
When Is A Scaling And Root Planing Necessary?
At your evaluation, your dentist looks closely at your periodontal tissues to determine if there are any signs of gum disease. If there are, a scaling and root planing is performed to remove the bacteria that have started to gather beneath your periodontal tissues. This is a more involved cleaning than the one typically provided at a checkup. While it can feel more invasive compared to the care you usually receive, it is important that it take place to stop an infection from growing more severe!
Better Routine Care Will Protect Your Teeth And Gums
Better daily oral hygiene habits will protect you against more than just dental decay. You can effectively protect your gums when you take care to thoroughly clean your teeth at your gum line. Paying attention to these spaces is important while you brush and while you floss. Allowing tartar to form in these spaces can lead to gingivitis, and it can also raise your risk for issues with decay that call for dental fillings or dental crowns.
Sunny Smiles Provides Patients With Consistent Dental And Periodontal Care
Your regular dental checkups are focused on more than just the condition of your teeth! When patients come to our practice, they receive support in the form of thorough periodontal and dental care. To find out more about our preventive oral health services, contact Sunny Smiles in El Paso, TX by calling 915-859-7000.