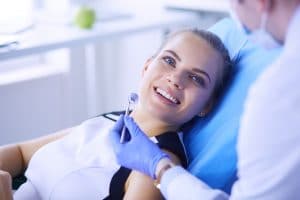 How much can you really discuss with your dentist when you go in for a routine oral health evaluation? Sunny Smiles is prepared to talk with patients about a variety of concerns. In addition to helping you recognize when you need cavity treatment, or when you current routine is not effective against tartar accumulation, we can discuss matters like periodontal health, cosmetic dental work, and more! Our practice is also prepared to help children develop good habits and learn the importance of good oral hygiene. You can count on our practice to help you stay informed about the state of your smile, recommend treatment when something is wrong, and effectively provide support to everyone in your family!
We Provide Smile Care For Adults And Kids
Finding one dental office for everyone in your family can make oral health care easier to arrange. You can set up an appointment for everyone in your household at one of our locations and feel confident that they will receive the right dental care. For kids, we can focus on different priorities as they age. While our initial focus will be on making them comfortable with the dentist's office, our focus can change to educating them on good oral hygiene, and ensuring that they receive the kind of preventive dental care that will keep their teeth safe into adulthood. We can continue to provide meaningful support to adults who come to us for routine exams, and we can help them by identifying issues that they can experience, like bruxism and TMJ disorder, before they worsen.
We Can Address Issues Like Dental Damage And Tooth Loss
Your general dentist can restore your full smile if you have experienced dental trauma, even if that trauma has resulted in tooth loss. Through the appropriate restorative dental work, we can make sure that you are able to bite, chew, and speak with confidence. You can be happy to learn that when we place restorations like dental crowns, we can take care to make sure the treatment you undergo preserves your appearance.
We Can Help You Maintain Healthy Gums
Good oral health calls for more than just healthy teeth – maintaining your periodontal health can be more important than you might realize. To ensure that your gums stay healthy when you show signs of gingivitis, we can perform a special periodontal cleaning to fight the bacteria buildup that is occurring beneath your gum line. By doing this, we can make sure that you avoid long-term complications from advanced gum disease.
Count On A Range Of Oral Health Services At Sunny Smiles
Our dental office is proud to help people of all ages in our community to maintain healthy, attractive teeth! To find out more about how we can help your family, contact Sunny Smiles in El Paso, TX at 915-859-7000.