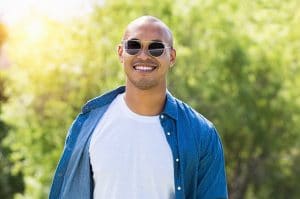 If you have a cavity, some form of restorative dental work will need to take place to stop it from doing any more harm to your enamel. Patients who are consistent about scheduling dental exams can count on their dentist to spot signs of decay in their earlier stages. This early detection can ensure that a cavity is dealt with while it is still small enough to be addressed with a dental filling. Patients at Sunny Smiles will receive dental fillings that actually match the color and texture of their enamel. What this means is that they can have their tooth restored without having its appearance changed. Even if decay forms in an area that is difficult to hide, you will not have to worry about a conspicuous restoration permanently affecting your smile!
Our Dental Fillings Can Be Placed Without Changing Your Tooth's Appearance
The dental fillings we provide to our patients are made from a composite resin substance that bonds with tooth enamel and matches its appearance. When a patient receives this type of restoration, they can be relieved to see that it blends in well enough to avoid detection and change the way they look. They can also be happy to learn that this substance is strong enough to let you continue putting pressure on the tooth when you bite and chew.
Arranging Cavity Treatment After A Dental Exam
At a routine exam, your dentist can spot a problem with decay that needs to be treated, even if that problem has not grown serious enough to cause you any discomfort. Early treatment ensures that your cavity is stopped before it causes an infection that demands root canal therapy. After removing the cavity and clearing away bacteria, a filling will be applied directly to the area where your enamel was treated.
Before your filling is placed, we can take care to make sure that its color matches your tooth to keep it from standing out. The biocompatible nature of the composite resin we use ensures that your restoration will actually bond with your enamel to keep it in place, which means you can enjoy lasting support and protection against future infections.
Better Preventive Care Can Help You Avoid Future Issues With Decay
Through regular dental exams, our practice is able to do more than just let you know when you need treatment. Your visit will also include a professional teeth cleaning to fight the buildup of harmful plaque and tartar – this makes cavities less likely to affect you in the future. For patients who have struggled to avoid issues with decay, we can review positive changes in your diet and oral hygiene routine that will make cavity troubles less likely in the future.
Sunny Smiles Provides Lifelike Fillings For Patients With Tooth Decay
Sunny Smiles is ready to restore your tooth with a durable, lifelike dental filling. To learn more about our practice and the services we offer, contact our El Paso, TX, dentist's office on N. Zaragoza Road at 915-849-9000.