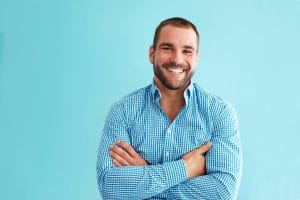 The way your teeth are spaced can significantly impact your confidence in your smile. Problems with the way they are spaced can leave unsightly gaps that you wish to hide, and they can cause issues with overlaps that make teeth look recessed, jagged, or otherwise out of place. For some patients, problems with poor smile alignment can actually be addressed with cosmetic dental work. If you qualify, your teeth can be improved with the placement of porcelain veneers. Veneers are custom-made shells that are bonded to your enamel. Unlike crowns, which completely cover teeth, veneers only have to cover the fronts of teeth to hide issues with the way you look. This minimizes the preparatory work needed while still ensuring that you have the esthetic changes you desire!
Can I Really Address Alignment Flaws Without Orthodontic Work?
For some patients, problems with spacing between teeth can be addressed without orthodontic work. The veneers you receive will be carefully made to hide gaps and overlaps, capping the fronts of teeth to make them look uniform and problem-free. The durable porcelain material used to create these veneers can hold up well over the years, resisting problems with wear and tear as well as discoloration.
Other Benefits You Can See From The Placement Of Veneers
By placing veneers, we can help you with more than just correcting the way your teeth are aligned. Their presence also hides problems with discoloration, gradual wear and tear, and even physical injuries. These thin shells are able to completely cover teeth so that previous concerns with the way they look are properly resolved. Because of this, patients who want to see significant smile improvements may be able to enjoy all of their desired changes in the course of just one treatment!
Preserving Your Smile Improvements After Receiving Veneers
While other procedures, like tooth bonding and contouring, can also help with these problems with less preparatory work, veneers can offer greater durability, making results easier to maintain. With that said, smart daily care and regular dental exams will help you maintain the improved smile that you hoped to show off. Keep up with regular brushing and flossing – your dentist can offer guidance on daily care after cosmetic dental work, and provide continued feedback about the state of your smile at your checkups!
Discuss The Placement Of Porcelain Veneers At Sunny Smiles!
Through cosmetic treatment with porcelain veneers, our practice can give you a big confidence boost! Your custom veneers can address a range of problems, including problems that concern the spacing of your teeth. If you are bothered by gaps or overlaps between your teeth, or if you have any other cosmetic concerns, please contact Sunny Smiles in El Paso, TX by calling 915-859-7000.