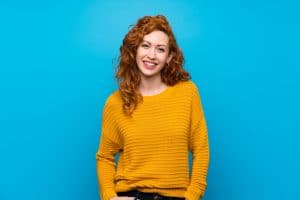 How should you approach problems with dental discoloration? If you have been frustrated by the way stains have made your enamel look dull, you may have already tried whitening toothpastes, or even attempted to brighten your smile with a store bought teeth whitening kit. While these efforts can help you deal with superficial stains, it may be difficult for you to see the results that you really wanted to show off. A professional whitening procedure provided by your dentist can deal with stains that have proven difficult to remove. Sunny Smiles has helped many people take on issues with discoloration. In addition to helping remove stains that already affect you, we can offer guidance on good habits that make problems with discoloration easier to avoid in the future!
How Have Teeth Stains Affected Your Smile?
Stains can gradually build up and darken your enamel over time, even if you are doing a good job preventing problems with tooth decay from occurring. Many popular products that we eat and drink are dark or rich in color. These products can leave behind chromogens or tannins that hurt the whiteness of your smile, leading to general concerns about the way that you look. If stains have had time to settle, they can become difficult to remove with store bought treatment options.
Arranging Your Professional Whitening Treatment
Your dentist will supply you with a whitening kit that includes potent bleaching agents and custom trays that help with the application process. The trays make the even application of whitening gels easier, ensuring that you are able to effectively treat teeth that currently look unattractive. After receiving your kit and instructions, you can begin daily treatments to address the stains that have left your smile darker or duller than you prefer. Patients tend to complete their treatment and see exciting improvements in under two weeks!
What Else Can I Do To Improve The Way I Look?
Discoloration is not the only issue that can affect a person's overall confidence in their smile. If your teeth look worn, chipped, cracked, or generally misshapen, we can make improvements with porcelain veneers. Custom veneers will allow you to address many different concerns at one time, making this procedure effective for those who want a smile makeover. We can also address flaws with the shape, size, and color of teeth through dental bonding and contouring services.
Discuss Teeth Whitening Treatment At Sunny Smiles!
Patients who visit Sunny Smiles can learn about treatment options that effectively deal with cosmetic concerns like discoloration. If you are currently bothered by the color of your smile, or if you have any other issues with your appearance, please contact our El Paso, TX, dentist's office on N. Zaragoza Road at 915-849-9000.