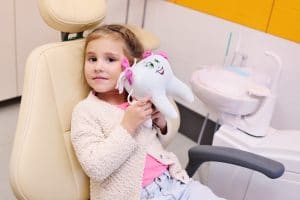 Having access to quality dental care can help you remain confident in your smile, and it can prevent potentially serious oral health issues from affecting you. While adults should see regular dental exams as important, these appointments are also valuable for younger patients. Pediatric dental care calls for more than just the same approach to preventive dental care that adults receive. At first, the priority can be to simply make sure your kids are comfortable in the new surroundings of a dentist's office. From there, they can benefit from traditional preventive care as well as encouragement and instruction regarding good oral hygiene habits. You can bring your children in for dependable care at Sunny Smiles, just as you can rely on our practices to support your dental health!
Dental Care Is Important At An Early Age
Even if kids are not old enough to brush and floss their teeth on their own, the right approach to dental care will be important. Their initial visits can be important for helping kids become comfortable in the dentist's office. These early visits also help kids learn the importance of protecting their smile, as they can receive instructions about daily oral care and important warnings about the harm cavities can do.
Bringing Your Kids In For Their Dental Exams
Kids should see their dentist for the first time around the point when their first tooth arrives, or when their first birthday occurs. The goals of dental care at first will be to introduce kids to new surroundings and their dentist, and to help them develop a basic understanding of oral hygiene and its benefits. When they are older, their visits can look more like the kind of routine appointments that adults enjoy, though they can still receive additional guidance on brushing and flossing on their own. When it is necessary to do so, we will be able to carefully restore their teeth to address active problems.
Our Practice Can Help Parents And Kids Manage Their Dental Health
You can make dental visits more convenient for your entire family by bringing everyone to the same office! In addition to encouraging parents to bring their kids to see us, we offer important preventive services for adults. At your regular appointments, you receive thorough evaluations as well as cleanings to remove tartar buildup. If you have a problem with dental decay, it can be identified and treated with a custom dental filling before the damage to your tooth worsens.
Bring Your Kids In For Dental Care At Sunny Smiles
Dental care is important for kids – from the moment their teeth start to arrive, they need to be protected against cavities. To learn more about how you can count on quality care for everyone in your family at one location, please contact Sunny Smiles in El Paso, TX by calling 915-859-7000.