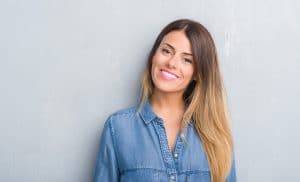 If you want to see meaningful improvements to your smile, you will have to make time for a dental appointment…right? People who want to do something about dental discoloration may feel frustrated after deflating experiences with store bought whitening treatments. By discussing concerns about your smile color with your dentist, you can actually learn about the benefits of taking home a whitening kit provided by a dental professional. This kit will include special whitening agents that offer greater results than products that are available at the nearest grocery store or pharmacy. These kits also include customized whitening trays, which make it easier to directly apply the whitening agents in your kit to your teeth evenly.
See Noteworthy Smile Improvements With A Treatment You Use At Home
Cosmetic dentistry has helped many people take on flaws with their smile that robbed them of confidence. In our office, we can provide services that restore the appearance of teeth that are worn or misshapen, problems with chips and cracks, alignment issues, and discoloration. When it comes to fighting visible teeth stains, we can actually send you home with a personalized kit that provides all necessary tools for making your smile notably brighter. The kits that we offer include customized trays for your treatment, and agents for brightening your enamel that can remove stains store bought products are not able to touch.
Using Your Take-Home Whitening Kit
Because whitening kits include personalized trays, patients can evenly apply the gels given to them to their teeth. The tray will apply these materials directly to your enamel – during the application process, you will leave them in place for the recommended length of time and let the agents fight your discoloration. Patients typically see exciting results in less than two weeks' time!
Is Discoloration Always Related To Teeth Stains?
Sometimes, dental discoloration can be traced to something other than stains. If one tooth in particular stands out for looking dull or discolored, the problem could be related to physical trauma. It is also possible for someone to have lasting issues with discoloration because of fluorosis, a problem that can occur during childhood, or because of certain medications that change teeth color. To deal with these problems, we can recommend services like dental bonding treatment, or the placement of porcelain veneers.
Take Home A Teeth Whitening Treatment From Sunny Smiles!
Are you tired of feeling a lack of confidence in your smile because your teeth appear dull or discolored? At Sunny Smiles, we have helped many patients in and around El Paso with concerns about their appearance, as we offer multiple cosmetic services that can produce exciting results. To find out more, please contact our El Paso, TX, dentist's office on N. Zaragoza Road at 915-849-9000.