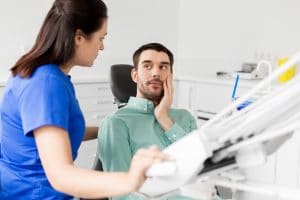 What can you do to secure treatment when you have a dental emergency? Sunny Smiles has helped many people who found themselves in need of care on short notice. Once a patient arrives for their emergency support, we can evaluate the problem before moving on to treat the issue affecting your smile and oral health. You can contact us to schedule an emergency visit after a physical injury occurs, or when another problem, like severe dental pain, makes a trip to the dentist a high priority. Patients who need emergency treatment can count on the quality care we provide whenever performing restorative dental work. In addition to addressing your oral health needs, we can put a restoration in place that protects your tooth while restoring your smile!
Our Practice Can See You On Short Notice!
Tooth injuries and dental pain can be hard to ignore, and they can make urgent care a priority. Injuries can be particularly upsetting, as you can be left with a visible smile flaw as well as problems with pain. Emergency dental appointments give us opportunities to treat these issues before they worsen. In addition to having your smile restored after only a short time with a visible injury, your treatment will allow us to address internal damages or infections before they grow more severe.
What Can You Expect From Urgent Care?
When you arrive, your dentist will be able to carefully review the matter facing you before moving forward with the appropriate treatment. The type of care received can vary, just as the situations that call for emergency appointments can vary. In some cases, it will be necessary to perform root canal therapy to address internal troubles. In other cases, we may find that visible damage is not severe enough to call for restorative work, and can instead be addressed through cosmetic dentistry.
Your Emergency Treatment Can Restore Your Oral Health And Appearance
When treating patients experiencing dental emergencies, we focus on more than just addressing their oral health needs. Through the placement of a permanent restoration, we can restore your tooth so that you are able to smile with confidence again. For teeth that have relatively minor injuries, we can provide coverage with porcelain veneers, or through dental bonding treatments. If more support is necessary, we can protect a tooth with a custom dental crown.
Sunny Smiles Provides Emergency Services To Patients In And Around El Paso, TX
Sunny Smiles is ready to meet with you and treat you if you need help with a dental emergency. When treating patients with urgent concerns, we can provide treatment to address damage or pain while also taking care to restore your smile! To find out more, contact Sunny Smiles in El Paso, TX by calling 915-859-7000.