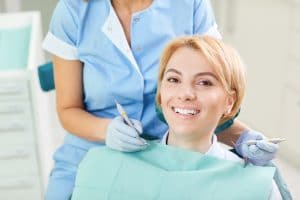 You should be making choices every day to fight cavities. There are obvious steps to prevent decay like brushing your teeth and flossing, as well as less direct (but still important) actions like cutting back on sugar and staying properly hydrated. As important as these daily behaviors are, they are not the only actions you can take to effectively prevent cavities. Make sure that you consistently schedule routine dental exams and cleanings to keep your smile healthy. At Sunny Smiles, we support patients of all ages in their efforts to maintain problem-free teeth. The cleanings provided at routine dental visits play an important role by removing tartar buildup that may have formed since your last appointment. Tartar removal is not something you can do on your own, but it is something that should happen consistently if you hope to avoid restorative dental work!
The Importance Of Fighting Tartar Buildup
How does a person's smile end up with accumulated tartar deposits? Over time, bacteria can join other materials that have gathered on teeth to cause plaque buildup. You can remove plaque yourself when you brush and floss. With that said, the plaque deposits that are not removed in time will harden and form tartar. Your toothbrush and floss will not be able to help you remove these deposits. Until they are taken care of during a dental cleaning, these tartar formations will make you more vulnerable to problems like dental decay and gum disease.
How Often Should I Have My Teeth Cleaned?
A teeth cleaning should take place during every routine visit, which should happen every six months. During a cleaning, your hygienist will carefully study your smile for any evidence of tartar. When these deposits are found and cleared away, your vulnerability to cavities and gingivitis will be reduced! Your hygienist can help you protect your smile going forward by recognizing where your brushing and flossing efforts are less effective, and offering advice on better cleaning these spaces.
Other Benefits To Preventive Dental Exams
At a routine checkup, you will be closely evaluated for periodontal problems as well as issues with cavities. Cavity treatment can be arranged after a checkup if necessary. By acting quickly to restore a cavity, your dentist can limit the amount of damage to your tooth structure. This can end with the placement of a dental filling instead of a dental crown, and effectively save more of your enamel. The early detection and treatment of gingivitis can also help you, as this lowers your risk for more severe problems with gum disease.
Schedule Your Next Dental Cleaning At Sunny Smiles!
Sunny Smiles is prepared to help patients of all ages keep their teeth and gums in great health over time. In addition to offering routine services, we can provide a range of treatments to address cosmetic and oral health concerns. To find out more, please call our dental office in El Paso, TX by calling 915-859-7000.