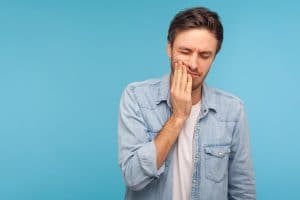 Dental pain can interfere with your daily life and make you (understandably) concerned about your oral health. What can be frustrating is feeling persistent discomfort while not being sure why this problem is affecting you. There are multiple issues that can lead to dental discomfort. By scheduling an evaluation, you give your dentist the chance to find the source of your troubles and recommend the appropriate restorative dental treatment. Sunny Smiles is able to take on various causes of pain. For instance, we can provide root canal therapy for an advanced cavity or injured tooth, but we can also address general jaw pains by providing relief from TMJ disorder. At regular dental exams, we can look out for early signs of trouble, which means problems can be spotted and treated before they become more severe.
Different Issues That Can Lead To Dental Pain
If you have general pains and aches in your jaw, face, and head, you could be experiencing difficulties with TMJ disorder. This condition can arise whenever problems affect the alignment of your bite or joints, or when increased tension on your jaw joints and muscles is not addressed. If your pain is concentrated to a single tooth, an infection could be the cause. Infections form when cavities are not treated in time, or in the aftermath of a physical injury. If your wisdom teeth have not arrived yet, the pain you experience could be linked to their eruption, particularly if they are impacted. When this occurs, it is important to schedule the removal of your wisdom teeth so that they do not cause further harm.
Alleviating Pain Caused By TMJ Disorder
Problems with jaw stiffness and pain, teeth grinding, and general soreness can be resolved when you arrange TMJ therapy. With a custom oral appliance, we can gently correct your jaw's position, which can ease tension on both the joints and muscles. This work, along with care to improve your bite alignment, can take care of the stress that has led to your discomfort.
Can I Schedule An Emergency Appointment For Severe Pain?
If you are experiencing severe pain, we can schedule you for an emergency dental treatment. While emergency visits are often based around problems with physical trauma, they can also be scheduled for those who have worrying amounts of discomfort. If your problem is linked to an infection, timely treatment can be important. If too much time passes before an infected tooth is treated, it may reach a stage where the only treatment option left is to have the tooth extracted!
Bring Concerns About Dental Pain To Sunny Smiles
If you find yourself struggling with dental pain, make sure that you reach out to schedule treatment. To learn how we can help you deal with different causes of pain, please contact Sunny Smiles in El Paso, TX by calling 915-859-7000.