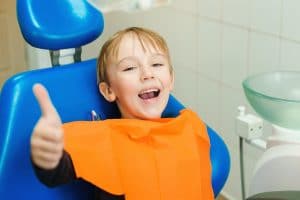 A child's needs will change in many ways over the years, particularly as they become more independent. With that said, basic matters like their physical health, and the health of their teeth, will remain consistent. What can you do to make sure that your kids grow up with healthy smiles, and that they stay safe against the formation of cavities? The right approach to smile care at home is important, but make sure you also take them to see their dentist. Pediatric dental visits offer education and guidance; when kids are old enough, these visits also provide the kind of preventive dental care that adult patients should enjoy.
Teaching Kids The Importance Of Good Oral Hygiene
You and your dentist can both take care to educate your children on the importance of good oral hygiene. Even before they are old enough to actually brush and floss on their own, you can talk to them about how important brushing and flossing are, and why you care for their teeth. When they near an age when they can take these tasks on, you can offer guidance at home, and your dentist can provide instructions and information during pediatric checkups. As they gain a better understanding of smile care, it can be easier for them to see the importance of protecting themselves against cavities.
Your Dentist Can Check On The Development Of Your Child's Smile
Kids and adults both have to worry about the negative effects that result when bacteria and food debris are allowed to build up on their teeth. While problems that call for restorative dental work can affect someone at any ages, kids are also susceptible to issues that affect their development. With your dentist regularly checking their oral structures, you can receive early warnings about developmental issues that might require treatment. When these problems are caught in time and treated, complications can be avoided.
Having One Dentist For Your Family Can Make Care More Convenient!
Having one dental office for everyone to visit can make smile care more convenient. You can set appointments for your own oral health checkups at the same time your kids are going in to see their dentist. Our practice is committed to providing the right care for all of our patients, and we can make sure that everyone in your family is benefiting from their visits!
Sunny Smiles Is Proud To Provide Smile Care For El Paso Area Families!
Sunny Smiles is proud to provide quality oral health care for individuals in and around the El Paso community. Because we offer pediatric services as well as care for adults, we can make sure that you and your kids are receiving quality smile care whenever you visit! To find out more, please contact Sunny Smiles in El Paso, TX by calling 915-859-7000.