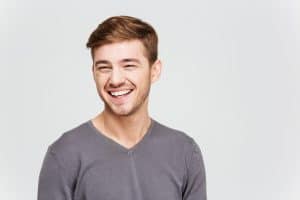 You should take care of your smile to keep it safe against threats like tooth decay and gum disease. With the right oral hygiene routine at home, and regular dental exams, you can stay safe against the buildup of plaque and tartar, which create problems for your oral health. Of course, for some people, their smile concerns are not just limited to their well-being. Problems with the shape, size, and color of your teeth can undermine your confidence and leave you dwelling on your flaws. At Sunny Smiles, we are prepared to help people in and around our community with an interest in cosmetic dentistry. The right procedure can take less work than you expect while delivering exciting results!
Have You Felt Self-Conscious Over Certain Dental Flaws?
Even if your teeth are in good health, their appearance can suggest otherwise and leave you feeling uncomfortable with your smile. Problems with minor wear and tear can make your teeth look asymmetrical, or create flaws that draw undesired attention. You may also worry about the buildup of teeth stains that leave your teeth looking dull and less healthy. What you can find is that the right procedure can take on several flaws at one time, putting the changes you wish to see within reach!
Dealing With The Accumulation Of Teeth Stains
Many people will struggle with the buildup of teeth stains over time. Even if your daily brushing and flossing sessions keep you safe against tooth decay, it can be difficult to fully protect yourself from the accumulation of particles that leave enamel looking dull. With your dentist's help, you can actually see meaningful changes in a short period of time. For a truly convenient cosmetic procedure, you can use a Zoom! whitening kit provided at our practice from the comfort of your own home.
Restore The Appearance Of Worn Or Misshapen Teeth
The consistent friction from biting and chewing may change the look of your teeth over time. Wear and tear can affect different people to varying degrees, but the problem can be more significant if you grind your teeth, or if your enamel is naturally softer. For these issues, or for naturally occurring flaws with the shapes and size of teeth, we can provide treatment with porcelain veneers. Veneers occupy less space than dental crowns, reducing the amount of preparatory work needed. We may also be able to assist you by providing a dental bonding procedure. Bonding treatments hide flaws without the need for restorations, further minimizing the work on your smile.
Sunny Smiles Can Help People In And Around El Paso, TX Deal With Smile Flaws
Are you frustrated with your smile because of flaws that affect your teeth? If so, you can find that the right cosmetic procedure can deliver great results and boost your confidence! To find out more, please contact Sunny Smiles in El Paso, TX by calling 915-859-7000.