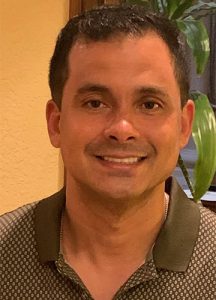 The Sunny Smiles team is excited to welcome a new dentist to our Dyer location! Patients who go to this office can receive care from Dr. Paul Apilado. Dr. Apilado, a member of the American Dental Association, the Texas Dental Association, and the El Paso District Dental Society, is prepared to help patients with their general dental needs. We are happy to have him on staff and helping the patients who trust us to manage their smile health, and we look forward to people meeting and receiving care from him! Both of our El Paso, TX dental offices are ready to help patients with a variety of different matters. You can come to us for routine dental care, but remember that we are also ready to provide a range of cosmetic and restorative dental services, too!
Meet Dr. Apilado
Dr. Paul Apilado is originally from Arlington, TX. From an early age, he was eager to enter into the profession of dentistry. He received his BA in Psychology from the University of Texas at Arlington, and would go on to graduate from the University of Texas Health Science Center Dental School at San Antonio. He will be on hand at our location on Dyer St. to help patients with a range of different needs and concerns. His presence ensures that we continue to have a great group of professionals ready and able to protect our patients' smiles!
Our Practice Is Committed To Helping Patients Maintain Healthy Teeth
Both of our dental offices in the El Paso area provide patients with a variety of services. At regular dental exams, we provide valuable feedback about your oral health as well as protection through thorough dental cleanings. For those who have problems that call for treatment, we are able to address issues before restoring teeth to preserve their natural appearance. We also have experience providing cosmetic dental work for those who wish to address problems they have with the way their teeth look.
Setting An Appointment
Our practices are ready to set up your next appointment! Both of our locations have hours that extend into the evening, so we can work with those who have trouble finding time to see their dentist. We also provide Saturday office visits by appointment at our Dyer location, and regular hours at our location on N. Zaragoza Rd.
Count On Quality Oral Health Care At Our El Paso, TX Dental Offices!
We are excited for our patients to meet and work with Dr. Apilado at our Dyer St. location! Sunny Smiles provides a variety of oral health services to people in and around the El Paso community. With our two locations, we can make time to see many people for a range of different concerns. If you would like to learn more, you can reach Sunny Smiles at our Dyer St. location by calling 915-859-7000.