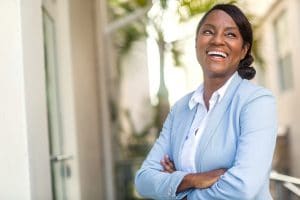 The biting and chewing we do in the course of a day creates friction that can affect our teeth. Fortunately, dental enamel is a remarkably strong material, so our smiles can generally be unaffected by this daily work. However, it is possible for gradual changes to occur. These actions, along with any issues with teeth grinding or clenching, can lead to wear and tear that impacts your appearance. Teeth that appear flat or worn can look older and less healthy, and may even change the symmetry of your smile. Many patients who see the difference in their smile can respond to unwelcome changes by undergoing cosmetic treatment. Cosmetic dentistry can lead to improvements in the shape, size, and color of your smile that restore confidence in the way you look!
Has A History Of Teeth Grinding Hurt Your Smile?
While some people may have changes in the condition of their teeth solely due to years of biting and chewing, many will have noticeable problems because they grind their teeth. Bruxism can lead to more than just concerns about your smile. A problem with teeth grinding that goes untreated can lead to dental damages that require restorative dental work, and also cause you to have difficulties with jaw pain and stiffness.
Restoring Worn, Misshapen Teeth
Teeth that appear worn or misshapen may look unhealthy, and gradual wear and tear is able to affect the symmetry of your smile. We offer more than one cosmetic service to help with these concerns. Dental bonding and contouring treatments target specific flaws by carefully removing excess enamel, or through the application of a resin material to hide flaws. We can also make plans to restore the look of teeth by placing porcelain veneers. Veneer placement requires less preparatory than the work to place dental crowns, as veneers are only meant to cover the fronts of teeth.
We Can Help If You Are Still Struggling To Address Bruxism
If you are still dealing with unresolved teeth grinding, we can provide support. Many patients who have this issue struggle to stop it because they are grinding their teeth throughout the night. To stop this, you can wear a custom oral appliance provided by your dentist. When in place, it can keep your teeth apart so that grinding while you sleep is no longer a concern!
Sunny Smiles Is Prepared To Restore Smiles Through Cosmetic Dentistry
When dental wear and tear make a person self-conscious about their appearance, they can find that the right cosmetic procedure can make a significant difference in the way they look. If you would like to learn more about treatment to restore worn or misshapen teeth, or if you still struggle with teeth grinding, please contact our El Paso, TX, dentist's office on N. Zaragoza Road at 915-849-9000.