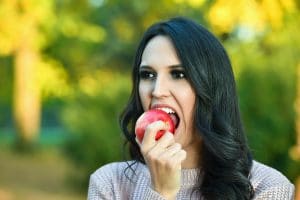 One aching or sensitive tooth can be enough to push you into changing your bite function. While you may see little harm in adjusting your bite to avoid putting pressure on a certain tooth, you can put yourself at risk for several issues. The stress of adopting an awkward, uneven bite motion can lead to chronic aches and pains. Your overuse of other teeth can wear them down more quickly, leading to cosmetic problems, and possible troubles with your oral health. It should be noted that ignoring an aching tooth can also be a problem, as that problem you try to overlook could be one that calls for restorative dentistry. We can improve your bite function and protect your tooth by providing a durable, custom dental crown.
A Flawed Tooth Can Become An Issue For Comfortable Dental Function
An even bite motion will help you minimize stress on your jaw muscles, and it can protect you against problems with your joints. With just one flawed tooth affecting you, it can become difficult for you to maintain that even movement, which means that problems can occur. If you want to avoid this, make sure you talk to your dentist whenever you feel you are not able to put pressure on a tooth. If the tooth hurts, or if it seems too small or weak to take as much pressure as its neighbors, a crown can provide important functional support. Because we are able to provide crowns made from lifelike porcelain and zirconia materials, its placement can also benefit your appearance.
We Can Restore Your Tooth With A Lifelike Dental Crown
Before restoring your tooth with a crown, we will take care to measure it and prepare it to hold your restoration. This preparatory work helps us to make sure that the crown looks natural when placed, and that it has the right shape and size to provide support. The crown will cover the whole of the tooth above your gum line. With it in position, you will once again be able to bite and chew while applying pressure in a way that feels natural!
Don't Ignore A Problem With Your Bite Function!
Even if the problem is not linked to tooth pain or sensitivity, you should treat an awkward bite like a real problem. As time passes, awkward movements can put pressure on your joints and muscles, which can lead to difficulties with TMJ disorder. If you are already struggling with pain and stiffness whenever you move your jaw, let your dentist know – through treatment, we can address alignment problems and stress.
You Can Receive An Attractive, Dependable Crown At Sunny Smiles!
At Sunny Smiles, patients who are unable to maintain a comfortable, natural bite can speak with us about restorative work to resolve the problem before it worsens. To find out more, please contact our El Paso, TX, dentist's office on N. Zaragoza Road at 915-849-9000.