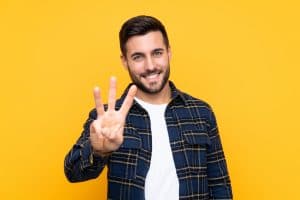 Any time a cavity forms, permanent damage to your tooth structure will occur. Even if your dentist spots and treats that cavity just after forming, it will be necessary to place a dental filling to keep the tooth safe and secure. If you want to protect your enamel against this damage, it is important to have the right habits in place. Good oral hygiene will be important, as your routine keeps plaque and tartar from accumulating on your teeth and putting you at risk for decay. Make sure you also take your diet seriously, and that you consistently attend routine dental checkups. With these different steps in place, you can keep your teeth safe from harm!

1. Make Sure You Floss On A Daily Basis
Flossing should occur on a daily basis, not just when you have something to remove from between your teeth. In addition to flossing consistently, make sure you take care to thoroughly clean these spaces. Moving the string down to your gum line ensures that you remove all bacteria and food debris present. Cleaning at the base of your teeth will also help you avoid troubles with gingivitis.
2. Take At Least Two Minutes To Brush
Are you dedicating enough time to your brushing routine? Check yourself by setting a timer for two minutes. This length of time gives you a chance to perform a thorough cleaning and remove all harmful microbes and remnants of food. Cutting your brush time short will make you vulnerable to tartar formation, ultimately raising your risk for decay and gum disease. To further improve your brushing efforts, make sure you replace a brush when it starts to wear down, or by the three month mark, and confirm that your toothpaste brand has an ADA seal of approval.
3. Cut Back Your Caffeine Consumption
Early mornings and long workdays often leave us reaching for the nearest cup of coffee. As popular as caffeinated drinks are, they can create problems for your teeth that you should be aware of if you want to avoid restorative dental work. Soft drinks and energy drinks in particular should be limited, as they contain heavy concentrations of sugar, plus their acidity can weaken enamel. Coffee and tea are also acidic, and they can cause periods of dry mouth, which will limit how well your body can naturally fight oral bacteria.
Sunny Smiles Helps People In And Around El Paso, TX Avoid Cavity Problems
Patients who come to Sunny Smiles can receive cavity treatments that restore teeth while preserving the way they look. In addition to addressing cavities, we can keep your teeth healthy by offering guidance on oral hygiene, professional cleanings, and preventive evaluations. To learn more, contact our El Paso, TX, dentist's office on N. Zaragoza Road by calling 915-849-9000.