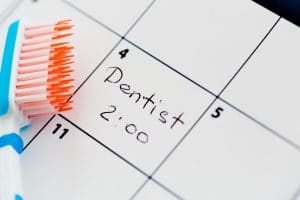 If you are new to the area and looking for a dental office, or if you have fallen off the habit of scheduling dental exams, you should make setting your next appointment a priority. To keep your smile in good condition, you should strive to arrange a routine checkup every six months, unless you have been told to follow something different by your dentist. Going without these visits leaves you vulnerable to advanced tooth decay or gum disease, problems that can have serious consequences. Our El Paso, TX dentist's office is prepared to help individuals who need to find a new practice, or need to return to a habit of enjoying consistent preventive care.
Consistency Matters When It Comes To Preventive Exams
So what can happen if you fall out of the habit of attending dental checkups? If you are not having your teeth checked regularly, you may not realize that a cavity has already formed. In time, the cavity can start to cause you discomfort, or it may even lead to difficulties with swelling or discoloration. When these symptoms occur, it can mean that the tooth is in such poor health that a root canal procedure must take place to address an infection. Your visits also matter because your dentist can arrange for you to have a periodontal cleaning to fight gingivitis. When gingivitis is not managed properly, the infection can worsen, When this occurs, the problem becomes difficult to control, and the effects can lead to new troubles, including tooth loss!
What To Expect From Your Checkup
At a routine checkup, your dentist will take the time to thoroughly study your teeth and gums for any signs of trouble. If there are problems identified in the course of that evaluation, they can speak with you about the matter, and they can discuss how restorative dentistry can help. Your visit will also include time for a thorough teeth cleaning. Cleanings remove tartar as well as plaque, keeping your smile free of deposits containing harmful bacteria that cause dental decay and gingivitis.
We Can Schedule Restorative Care When A Problem Is Identified
In the event that a cavity is found, the state of that cavity will determine what the right treatment might be. Dental fillings are a conservative treatment option for decay, one that will see the tooth protected by a composite resin substance that bonds with your enamel. If the cavity has done more harm than a filling can address, we can talk to you about capping the tooth with a custom dental crown to keep it safe.
Schedule Your Next Checkup At Our El Paso, TX Dentist's Office
Are you due for another dental exam? To make an appointment, contact our El Paso, TX, dentist's office on N. Zaragoza Road by calling 915-849-9000.