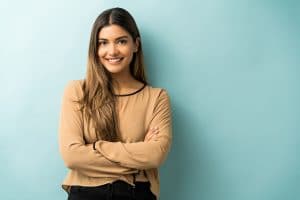 Whether the problem is with an injury, gradual wear and tear, or naturally occurring flaws, a misshapen tooth can make you feel uncomfortable with your smile. Fortunately, the right cosmetic dental procedure can make improvements to the way you look while requiring limited amounts of work on your tooth structure! Through the placement of a custom dental veneer, it is possible to hide minor damages, change the shape of a tooth, and even improve its size to make it more attractive. Through this one procedure, your smile can become more symmetrical, and you can hide a conspicuous and embarrassing flaw! This is one of several services our El Paso, TX dentist's office can offer to improve your smile. If necessary, we are able to put a custom dental crown in place to offer functional as well as cosmetic support.
Dental Injuries, Gradual Wear, And Natural Flaws Can Hurt Your Smile
There is no single reason a person will have a misshapen tooth. A once-lovely smile can be marred by physical injury, or the steady erosion of your enamel due to friction can start to make some teeth look misshapen. Some people have problems because their teeth are naturally jagged, inappropriately sized, or otherwise flawed. Fortunately, a conservative treatment is often enough to take care of this issue!
How Veneers Restore Flawed Teeth
Veneers only occupy a small amount of space on a tooth. They are designed to cover a tooth's front to hide damages, improve the shape of a tooth, or to hide discoloration. Minor preparatory work can make space for the veneer so that it appears natural, and also to make sure it is effectively bonded to your enamel. Care is taken before treatment to both measure and prepare the tooth. If you wish to restore the appearance of several teeth, we can make plans to place multiple veneers to improve the quality of your appearance.
Dental Flaws Sometimes Call For The Placement Of Crowns
If a dental flaw affects the way you bite and chew, it can call for more than just the placement of a veneer. A custom dental crown will cover more of the tooth – it effectively envelops it, completely shielding the portion of your tooth above the gum line. When a crown is placed, it is intended to offer bite support as well as a smile improvement.
Talk To Your El Paso, TX Dentist's Office About Restoring Your Smile!
Sunny Smiles in El Paso, TX is prepared to help patients who feel frustrated by a conspicuous dental flaw. Through the placement of porcelain veneers, we have a discreet and conservative solution to problems with damage, wear and tear, and natural flaws! To learn more, contact your El Paso, TX, dentists by calling our Dyer St. location at 915-859-7000.