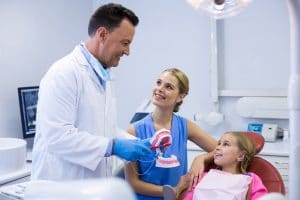 Having a single dental practice that you can trust with your smile as well as your child's can make your oral health care more convenient to manage. Relying on one practice makes it easier to set up everyone's routine dental exams, and you can talk with your dentist about your own needs as well as what you can do to help your kid avoid dental troubles. Our El Paso, TX dentist's offices are prepared to offer all-ages care. We can continue to see you and help you avoid problems with dental decay and gum disease. We can also meet with children and provide quality pediatric dental care.
The Right Practice Can Make Sure Everyone In Your Family Enjoys Quality Dental Care
Having access to an all-ages dental office will make it easier to bring everyone in for their appointments. You can actually schedule out visits so that everyone arrives at one time, at one location, to receive the care that they need. We are prepared to help people in different age groups stay safe against issues that demand restorative dentistry. We can give kids support to make their initial visits comfortable, and we can keep you informed about the development of their oral structures over time. For our adult patients, we can provide feedback as well as preventive care to keep smiles safe and attractive.
The Importance Of Consistent Pediatric Dental Care
While children have different needs from their dentist as they age, they benefit from having consistent access to oral health care. When they are old enough, they can begin to undergo the cleanings and evaluations that adult patients receive. In addition to monitoring the health of their smile at the appointment, we can check on their development between visits. We can also look out for early signs of trouble that call for treatment later. One common issue to watch out for is malocclusion, which can make orthodontic treatment necessary when kids are at the right age.
Make Sure Your Teeth Stay Healthy Through The Years
Your teeth face risks from more than just decay. If you want to keep your full, attractive smile, you also need to watch out for problems with gum disease, which can increase your risk for tooth loss and interfere with your general health. We check on your oral as well as your periodontal health in the course of your appointments. We can also support your well-being by looking out for signs of TMJ disorder, which can make biting, chewing, and speaking painful.
Our El Paso, TX Dentist's Office Is Prepared To Care For Everyone In Your Family
Sunny Smiles' dental offices are ready to help patients of all ages maintain their dental health. If you wish to book an appointment for yourself or a family member, please contact your El Paso, TX, dentists by calling 915-859-7000.